How To Find WhatsApp Users Nearby
🕐 1 Jul 23
Whatsapp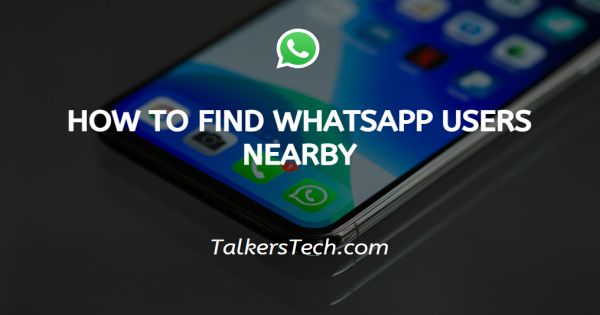 In this article we will show you how to find WhatsApp users nearby, if we talk about the WhatsApp app so hardly is any person who doesn't know this app, from the age of children to old both are using this app for chatting or business purpose.
Nowadays almost all work you can do via WhatsApp such as if you want to make LIC policy or even fill your form so you can easily send your document via WhatsApp abstain from walking not need to go cafe and all shop for fill your form, so you can do many thing through this app and it very easy to use for everyone.

But here, we will discuss about that feature which WhatsApp doesn't allow, that, how to find WhatsApp users which is nearby of you. If you are using official WhatsApp so there is no that type of feature with whom you find your nearby WhatsApp users, but by using third-party app you can do it.

So most of them are thinking, is it possible or not? it is possible! You can download and install this app from play store and it is free for all users. So with the help of "Whats Tracker" you can easily find the WhatsApp users that is the nearest of you and with whom you can chat. Let us being the process, how it works?
Step By Step Guide On How to find Nearby WhatsApp User
First, you have to download and install "Whats Tracker" app from play store and open it on your smart phone.
Before open it this app you have to fill some information about you like: name, country name, and your mobile number, the all information should be genuine.
After fill all the information you will see the main window of the app with many options, scroll down and double click on the location option which is having two red dots.
After clicking the location tracker icon it will be automatically started searching operation of the nearest person who is using WhatsApp. You can also select the distance manually that how much distance you have to cover around you
After a few minutes it will show you the result the nearest users in a map but if you want to see all users name and contacts so you need to click on the menu bar icon which is located at top right corner with red circle on the screen.
After that you can see the all users who are nearby you and using WhatsApp. So click any of the users that are on your screen and started chatting with them.
Conclusion :-
We hope this article on how to find WhatsApp users nearby helps you.