How To Get Rid Of Large Gaps In Text In MS Word
🕐 1 Jul 23
Microsoft Word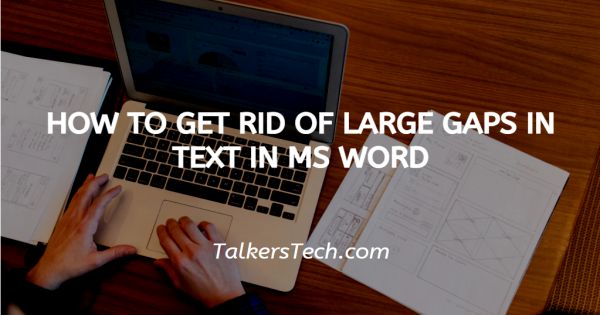 In this article we will show you how to get rid of large gaps in text in MS word, MS Word is a tool of the Microsoft office which is concerned with creating documents like resumes, assignments for school and college, an application form, a formal notice, softcopy of a formal speech, research paper, book, etc.
It is thus, used by millions of people all over the world and across all age groups for their personal and professional reasons and needs.

It offers a wide range of features and tools like tables, shapes, font, animations, etc. that help a user make their documents attractive, neat and wholesome.

In several instances, especially when you copy and paste content or add media, there appear large gaps between texts in a MS Word document.
Step By Step Guide On How To Get Rid Of Large Gaps In Text In MS Word :-
Click on the Microsoft logo located at the left bottom corner of the screen. This will open the main menu. From the Microsoft office, choose the MS Word tool by clicking on it.

You can also access the tool via its app on your mobile phone.
Now, open a blank document if you want to add content first. However, if you want to delete the gaps in text in a pre-existing document, simply go to the location in your device where the file is saved and click on its icon.
On the top of the page, you will be able to see the ribbon. This is where all the tools are organised in separate categories under different tabs.
Click on the 'Insert' tab from the panel. As soon as you do this, a panel of tools will appear on the screen. Click on the 'Page break' icon located on the left side of the panel.

Now highlight the space between the lines and click the Delete button.
Alternatively, select the space between words if you wish to reduce the large gaps in a paragraph.
Now, simply press on 'Ctrl+C'.
To get rid of the large gaps, click on the 'Replace' icon under the 'Home' tab from the ribbon.

In the next step, a new dialog box will open on the screen. In the text-field provided, paste the empty space that you had copied from between the words in your document.
Now, replace it with the normal space by using the Spacebar key.
Once you are done with it, click on the 'Replace All' icon at the bottom of the dialog box.

This will replace the large gaps in your text in MS document with normal gaps automatically.
Conclusion :-
I hope this article on how to get rid of large gaps in text in MS word helps you and the steps and methods mentioned above are easy to follow and implement.