How To Reactivate Banned WhatsApp
🕐 1 Jul 23
Whatsapp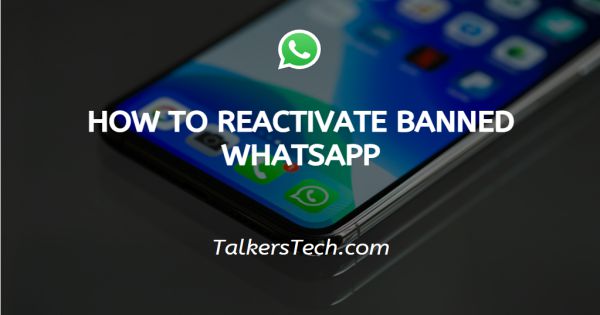 In this article we will show you how to reactivate banned WhatsApp, did your WhatsApp number got banned or blocked by the WhatsApp team for some reasons like you have joined illegal groups or you have shared something which is not allowed on WhatsApp or which is against the WhatsApp privacy policy.
Do you want to unban that number because that number is important?

What if we will tell that we have a trick by which you can unban your WhatsApp number in one day or even faster than 1 day?

Yes, you have heard it right just follow the step by step guide below.
Step By Step Guide On How To Reactivate Banned WhatsApp :-
The first thing we want to tell you guys that if your account has been banned by the WhatsApp team you guys must have done something illegal or something which is allowed on WhatsApp or something which against the privacy policy of WhatsApp.

So if your number has been banned due to some reasons which are mentioned above then we request you to leave that number and create a new WhatsApp account with a fresh number and don't repeat that same mistake.

But if that number is very important to you then you guys can try this method.
The first and foremost thing you have to do is Open your WhatsApp application
Then tap on agree and continue
Then what you have to do is enter your number which has been banned by the WhatsApp team
Then the next thing you have to do is tap on the next option
Then after that, you will see something on which it will be written:

Then take a screenshot of this page
Then what you have to do is tap on the option support
Then tap on add screenshots and then add that screenshot which you have recently taken
Then tap on please describe your problem which is above the adding screenshots option
And copy this and paste there:

And then go down and tap on this does not answer my question
And then you will see an email option and then tap on the email
And then send the same thing on the mail:
Conclusion :-
And if your mistake will be solved by the team then you will get your WhatsApp account back in few hours. So guys these were the steps I hope this article on how to reactivate banned WhatsApp helps you.