How To Use Two Whatsapp In One Phone Without Root
Last Updated : May 25, 2020
IN - Whatsapp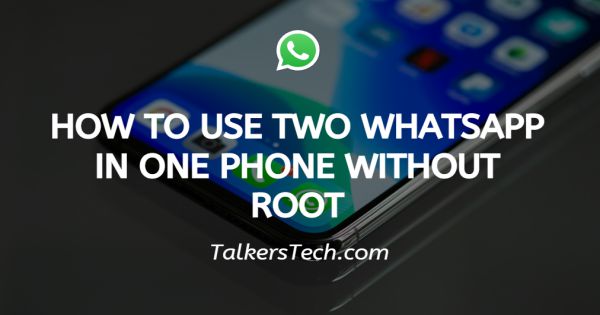 Do you want to have two WhatsApp account in your phone? In this article we will show you how to use two whatsapp in one phone without root.
Although there are multiple ways to install two WhatsApp accounts in your phone. Here in this article I will show the users how to not root your phone and install two WhatsApp accounts. WhatsApp is the most popular instant messaging service in the world with a customer base of more than one billion users.

Most of the smartphones today come with a dual SIM option, so customers are keen on using two WhatsApp Accounts for their professional and personal lives. Though two accounts can be installed in a single SIM variant too.

Natively for Android users it is not possible to install two WhatsApp accounts, it does not matter whether the mobile is a single or a double SIM. In this article the readers will be able to find out how to install their phones with two WhatsApp accounts. Below I have laid down a few simple steps which can be followed by the user:

Download and install two apps from Play store.
WhatsApp (Official Version)
WhatsApp Plus (Tweaked Version)
WhatsApp (Official Version)
WhatsApp can be easily downloaded from the official Play store. The App needs to installed with the mobile number of the user. An OTP gets generated which must be entered correctly and after verification you get access to the WhatsApp account.
WhatsApp Plus (Tweaked Version)
WhatsApp Plus is the modded version of the official WhatsApp. It comes with more colour customisations, memes and smileys, and other extra features, which are not generally found in the official version. Now, here comes the trick part.

Both WhatsApp and WhatsApp Plus are two different Apps but they are more or less the same in their usage. The mobile phone treats them as two different apps just because of their names. Moreover, both the Apps use the same WhatsApp server. So, no matter from whichever App you are sending the messages they will reach the same official WhatsApp server.

How to download WhatsApp Plus:
Download and install WhatsApp Plus.
Enable your mobile data or Wi-Fi.
Set up the App.
Enter the mobile number you want to install with your second account.
For those using a single SIM, SMS verification will fail as it already has an existing number with the official version of the WhatsApp account.
Request for a voice call for verification of the new number.
For a dual SIM, SMS verification generally works.
Enter the verification code.
Enter your user name and tap "NEXT".
Conclusion :-
That's it. You are done. Now you have two WhatsApp Account in your phone and that too without rooting the phone. Hope this article on how to use two whatsapp in one phone without root helps you.