How To Put Video On Whatsapp Status
Last Updated : May 27, 2020
IN - Whatsapp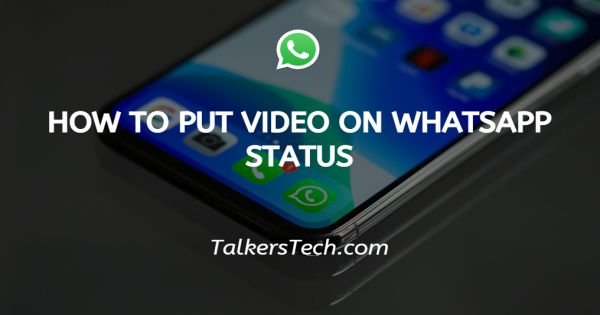 If you want to put a video as your WhatsApp status you have definitely come across the right article. In this article we will show you how to put video on whatsapp status. In this article I will show the readers few simple steps that are required to put a video in your WhatsApp status.
As most of us are aware of the fact WhatsApp in recent times has become the most popular instant messaging App with a user base of more than 1.5 billion active users. WhatsApp status allows the user to share "status" updates with their contacts which can be photos, videos, and GIFs.

Here I have laid down few simple steps on how to add videos as your WhatsApp Status updates:
Open WhatsApp and then go to Status Tab.
Tap on the circle button with the plus sign to update status (in this case video)
Go to the Gallery or Camera and share the video by tapping on the green button on the bottom of the screen.
Enter the "Send" button.
That's it. You are done. You have successfully added a video as your new WhatsApp status.

There is an option for the user to see how many views are there on their Status update and who have viewed them. There is a small eye icon at the bottom of the screen which allows the user to do so.

The user also has the option to delete their Status update before the stipulated twenty-four hours. This can be done by following these simple steps:
Go to the Status Tab on your WhatsApp.
Click on the three vertical dots.
On clicking the three dots Delete button appears.
Tap on the Delete button and the current status will be removed permanently.
Conclusion :-
Another important feature of the WhatsApp status is that the user can select the contacts who can view status update. This can be set under the Privacy settings of WhatsApp. To change the privacy of the status the user needs to go to the Settings Tab and select the desired contacts under Account > Privacy > Status.

Hope this article on how to put video on whatsapp status helps you.