How to delete muted status in WhatsApp
🕐 9 Apr 23
Whatsapp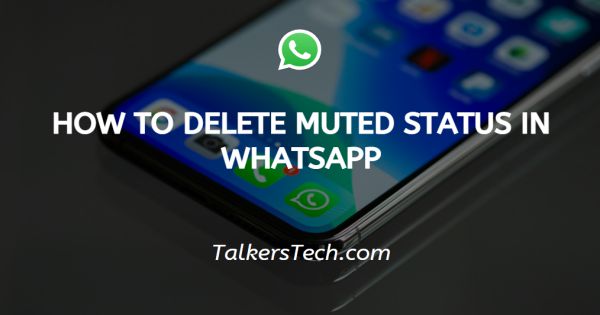 Are you looking for ways to delete a muted status in WhatsApp? Then you have definitely hit the right article. In this article we will show you how to delete muted status in WhatsApp.
WhatsApp is a cross platform messaging and voice over IP service which is now owned by the social network giant Facebook. With its status update feature the user can share texts, images, videos, and GIFs. With WhatsApp rolling out features every now and then it becomes very essential for the user to know all the little details of the Instant Messaging App.

In this article I will tell the readers a very simple hack on how to delete a muted WhatsApp status.

For some users it becomes very annoying to see WhatsApp Status updates of others. For them, folks in WhatsApp have rolled out the 'Mute' option. Mute allows the user to simply stop seeing status updates from that particular user.

Below I have laid down few easy steps on how to mute a person's status updates:
Open WhatsApp and tap on the Status tab.

Tap on the selected Status update and hold it for a couple of seconds.
A pop up appears on the screen.

Tap on the MUTE button.
That's it. You have successfully muted the status update.

Now some may also want to delete the muted status, for them I have shown some easy steps:
Go to the File Manager or File Explorer in your Smartphone.
Click on the files option and then choose the WhatsApp folder.
From the WhatsApp folder go to the Hidden files section.
Inside the Hidden files choose the Media folder.
Under Media folder choose Status Folder.
Select the particular status you want to delete.
Delete option appears on long pressing the particular muted status.
Tap on the delete button.
Conclusion :-
So, you are finally done. This is a very simple trick for the user to delete a muted WhatsApp status. Hope the article on how to delete muted status in WhatsApp helps you.