Manually Update Android Version
🕐 1 Jul 23
Android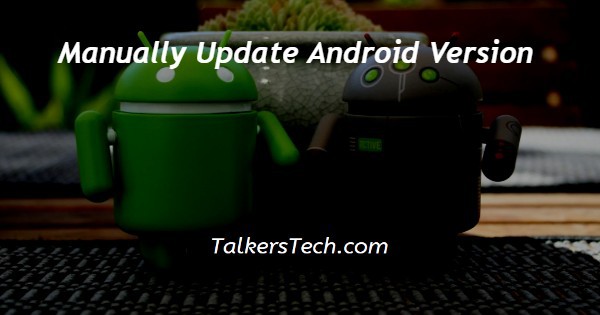 In this article we will show you the solution of manually update android version, there are two methods through which you can easily manually update your Android version.
The first method is to use the setting tap of your Android device and look for the latest update if any.
The second method is to download the latest version of Android by visiting the device manufactures official website using your computer.
In this method, you need to additional reuse the PC or laptop for manually update your Android device.
In case you are looking for a solution on how to manually update Android version this is the right article for you just follow the steps given below in order to manually update Android version
Step By Step Guide On Manually Update Android Version :-
First, you need to open any web browsers such as Chrome, Firefox, Microsoft Edge or Internet Explorer on your computer.
Now in the web browser you need to open the device manufacturer's official website.
The website of the manufactures brand may vary as per the Android device you wish to manually update.
After visiting it on the website of the device manufacturer you need to click the support option placed at the bottom of the screen.
Now in the support section, it may ask you to enter the specific details of your Android device.
After asking for the specific details of your device it will also ask you to register your device so that it can search for the software update.
After entering both the detail now search for the available update for your Android device.
In case the update is available for your Android device you just simply need to download the device management software.
in order to install the update on your Android device, you need to use the device management software installed on your computer.
the device management software also distinct from one manufacturer to another depending on the Android device you are using.
once the device management software is successfully downloaded you need to go to the download folder on your computer.
Once you open the download folder it will show you the update command.
now you need to connect your Android device to your computer to manually update your Android version.
After connecting both devices you need to search the update command inside the device management software.
Usually, the update command can be seen in a drop-down menu.
Now your Android device will automatically start updating once you tap on the update command.
Now you need to follow the on-screen instructions in order to manually update your Android version.
Once the installation of the update is successful in 100 to disconnect your Android device from the computer and reboot it.
Conclusion :-
I hope this article on manually update android version helps you and the steps and method mentioned above are easy to follow and implement.