How To Write Superscript In Google Docs
Last Updated : Jan 21, 2022
IN - Google Docs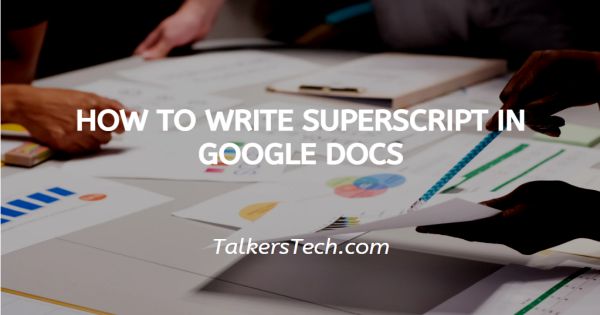 In this article we will show you how to write superscript in google docs, in Google Docs a superscript is mainly helpful to show the footnote and page notes along with copyright and any of the Trademark symbols.
Google Docs you can easily write a superscript using the format menu for using the keyboard shortcut. You can also insert a superscript in Google Docs with the help of special characters.

There is a certain time where some words in your document need small letters at the beginning of the text which is termed superscript. This is very common with chemical formulas or any mathematical equations.
Step By Step Guide On How To Write Superscript In Google Docs :-
Open Google docs on your PC.
Make sure you are logged in to your account.
In case it does not log you into your account simply enter your valid email id along with your password.
Now open the document Where you want to write superscript in Google Docs. You can also create a new document by clicking the option of a blank document.
Highlight the certain portion of your text that you want to turn into superscript.
The menu of Google docs displays various tabs- file, edit, view, format, insert, tools, add-ons, and help.
Click the Format Tab.
The format Tab includes various options like text, paragraph style, align and indent, Columns, line and paragraph spacing, bullets and numbering, header and footer, page number, page orientation, and clear formatting.
From the drop-down menu select text.

Select the arrow placed next to the option text. Another drop-down list will appear on your screen which will display various options including bold, Italic, underline, strikethrough, superscript and subscript, size, and capitalization.
Select the option superscript. You see that your highlighted text has turned into superscript after doing the formatting from the format Tab.
As you can see in the picture given below the highlighted text has turned into Superscript.

There is also another alternative method through which you can easily format the highlighted text as superscript.
In order to do so, you can easily use a keyboard shortcut key.
In Windows simply use the shortcut of Control and period key. This will automatically format the text into superscript in your Google docs.
Conclusion :-
I hope this article on how to write superscript in google docs helps you, in this article, we covered an essential guide.

The steps mentioned above are quite detailed and easy to follow and, in this article, we have covered two methods through which you can easily write superscripts in Google Docs.

The first method is using the format Tab and the second method is simply using the shortcut key.