How To Write Review On Zomato
🕐 1 Jul 23
Zomato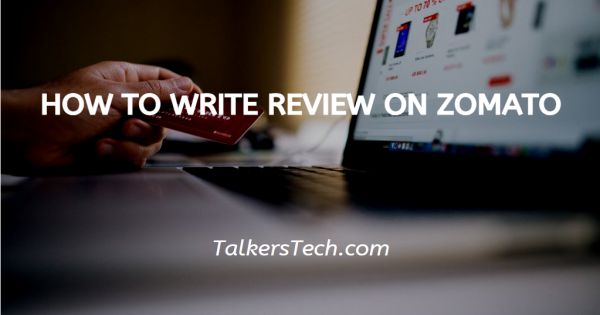 In this article we will show you how to write review on Zomato, all businesses need to get feedback of their performance, if they wish to improve. Apps like Zomato which are involved in contact-less transactions or online business, focus on ratings and feedbacks even more and rightly so!
Zomato connects with local food outlets and restaurants of a city as partners and helps them become more accessible and expand their business.

Since all the restaurants are listed online, it is very useful for the customers to be able to see the ratings and reviews of people for a restaurant.

It helps them make a decision as to whether or not they want to place orders with the restaurant after going through the various reviews of experiences that people have had.

Thus, it is important as a customer to write reviews for restaurants, whether good or bad, to help others like you, hold the restaurant accountable for its actions, etc.

You will be able to see ratings and review for different parameter like service, food, ambience, etc.
Step By Step Guide On How To Write Review On Zomato :-
Open your mobile phone and go to the 'Zomato' app from the App tray.

This will bring you to the home page of your account. Here you will be able to see all the deals and combo offers, food cuisines, suggestions of restaurants, etc.
On the Search bar located at the top of the screen, enter the name of the place for which you wish to add a review.

This will open a list of options, click on the one of your choice.
You will be able to see the menu of the restaurant or food outlet.
Here, below the name of the restaurant you will see a panel of options of mode of ordering food, that is, delivery, dining, etc. On the right side of the screen, you will see the 'Reviews' icon.

Click on this icon and you will be able to see all the reviews of other people.
Next, select the 'Write a review' icon by clicking on the notepad icon located to the right.

You will be taken to the 'Add review' page. First, choose the mode of order, delivery or dining by checking the circle against it.
Next, click on the stars ranging from 1 to 5.
As soon as you do this, a text-field will appear below. Here, you may even add a customised review regarding anything particular or add the key points listed below.
You can specifically add what you liked and what you didn't like from your experience. Here, photos can also be added to give people a better idea.
Once you are done, click on the 'Submit dining review' icon.

Voila! You are done.
Conclusion :-
I hope you found this article on how to write review on Zomato helpful and informative.