How To Watch Movies On Amazon Prime
Last Updated : Mar 25, 2022
IN - Amazon Prime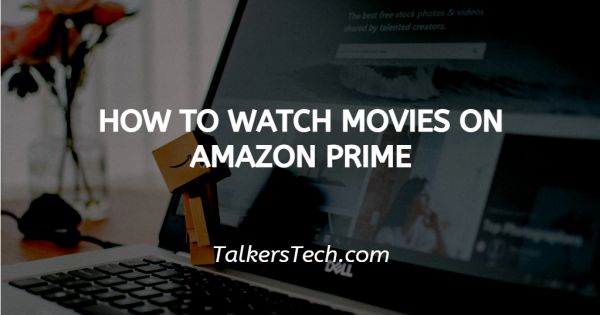 In this article we will show you how to watch movies on amazon prime, amazon Prime is one of the most popular entertainment streaming platforms across the globe. With its monthly subscription users can get to see a lot of content such as movies, series, documentaries TV shows and others.
A 30-day free trial of Amazon Prime is also available for the new users. prime video is a part of an Amazon Prime subscription.

Amazon Prime membership also provides various benefits apart from Amazon Prime which includes free two-day shipping on various items when you sign up for Prime video.

Prime video also allows the users to add other premium channels by paying a substantial monthly cost such as HBO, stars and showtime.

In case you are looking for a solution on how to watch movies on Amazon Prime this is the right article for you.
Step By Step Guide On How To Watch Movies On Amazon Prime :-
Open the Amazon Prime video official website on the browser.
If you already have an Amazon Prime subscription simply click the sign in option placed at the top right corner of the screen.

In case you do not have the prime member if you can click the 30 day free trial plan.
In the next screen it will ask you to sign to your Amazon account by entering your Email and password.

However if you are new to Amazon then you need to create your Amazon account by entering your name Email and password.
After this you need to enter your payment details for getting the Amazon Prime subscription.

You can pay with the help of major credit and debit cards and other netbanking options.
After reviewing your account info and payment details select confirm to complete the sign up procedure.
Now after successfully Creating your Amazon Prime account in order to watch movies on Amazon Prime you need to access the Prime video website again.
The website can be supported with the help of browsers named Chrome Firefox Safari Opera Internet Explorer and others.
Prime video provides a mix of various categories of movies. It also help you to download the titles in order to watch them offline and you can easily stream them at any time and place.

From the category section you can choose the type of movies that you want to stream on Amazon prime on TV.
From the category section you can also choose the audio language, Top categories and other categories of movies.
Conclusion :-
I hope this article on how to watch movies on amazon prime helps you and in this article we covered and essential guide and the steps and method mentioned above are easy to follow and implement.