How To Watch Disney Plus On Smart TV
Last Updated : Jun 7, 2022
IN - Disney Plus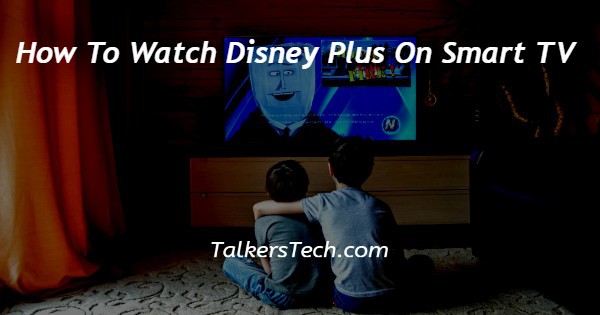 In this article we will show you how to watch Disney plus on smart TV, Disney plus is one of the top-leading online streaming platforms for shows and movies curated from different industries of the world.
It has a variety of genres and a special kids edition.
Even though these platforms allow you to stream content at the time and place of your choice, however, there is no denying that we all want to experience a relaxed session of binge-watching in the comfort of one's bed and not be holding the phone or laptop for hours, or one might simply want to watch a movie or show on the bigger screen of a TV.
In the new-age TVs of today, Smart TVs come with built-in or pre-installed apps and allows you to stream or surf through your favourite apps without any external device and simply using the remote of the Smart TV.
In this article, we will see how you can easily watch Disney plus on your Smart TV in just a few quick and easy steps just follow the steps below and you will be done in no time.
Step By Step Guide On How To Watch Disney Plus On Smart TV :-
To begin, you will need to switch on your Smart TV using the remote control.
Secondly, you will need to go over to the 'Connections' under the Settings panel (can be accessed using the 'Settings' icon on the remote.
From here, make sure that your TV is connected to an active internet or wi-fi connection.
Once that is done, on your remote control, click on the 'Home' button.
This will automatically open a panel displaying all the apps installed on your Smart TV.
Use the remote control to toggle to the left or right, up or down and click on the 'Disney plus' app icon.
In a situation where you don't have the app downloaded, go over to the App store called the Content store and search for the app.
Click on the 'Install' icon displayed in the next page.
This will download and install the app on your Smart TV.
Now, go back and toggle over to the right most side of the apps, or simply search for the Disney plus app.
Click on the app icon. As soon as you do this, you will be taken to the next page.
Here, you can either directly fill in your personal details and log in or use your phone to enter in the code and log in on your TV.
Now you will gain access to your Disney plus account on your Smart TV.
You can now easily browse through the platform and stream your favourite content on your Smart TV, without any hassle and complications.
Conclusion :-
This is how you can watch Disney plus on your Smart TV. I hope this article on how to watch Disney plus on smart TV helps you and the steps and method mentioned above are easy to follow and implement