How To Watch Amazon Prime On Sony Smart TV
Last Updated : Oct 18, 2021
IN - Amazon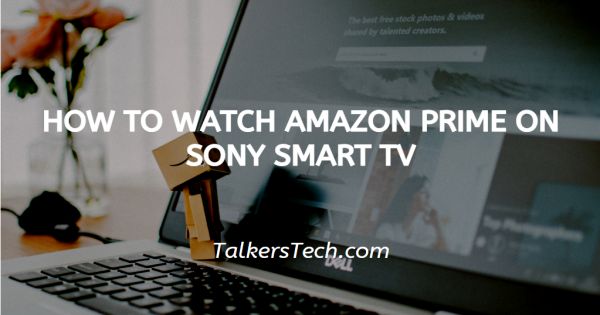 In this article we will show you how to watch amazon prime on sony smart tv, Amazon Prime is the second most video streaming platform around the globe. Amazon Prime is available on various platforms such as PlayStation 5, Apple TV, Smart TV, Mobile devices and Apple TV
In most of the latest models of Sony Smart TV, the Amazon Prime application is already installed in the Sony Smart TV.

It is very easy to watch Amazon Prime shows on Sony Smart TV if you already have the Amazon Prime application on your Smart TV.

In order to watch Amazon Prime shows, you must have an Amazon Prime subscription. The cost of this subscription is Rs. 199 per month and Rs. 999 for a year.

Sony Smart TVs have a pre-installed Amazon Prime application. In case you cannot find an Amazon Prime application you can simply download it from the Play Store.
Step By Step Guide On How To Watch Amazon Prime On Sony Smart TV :-
Switch on your Sony Smart TV. Make sure it is connected to the internet. From your Sony Smart TV remote, go to the menu option.
Look for the app section.
Open your Amazon Prime video application on your Sony Smart TV.
Amazon will welcome you to Prime video and ask you to sign in and start watching.
Click sign in and start watching, appearing on the home page of Amazon Prime.
After clicking this option, they will present the registration code on your TV.
After receiving the registration code you need to visit primevideo.com/mytv. This website will immediately show the Amazon activation page.
Amazon asks you to register your compatible TV or device.e You need to enter the Amazon video registration code from your TV or device. The registration code sent is of 5 or 6 characters. Amazon asks you to enter that code and click continue to move forward for the next steps.
With this step, it links your Sony Smart TV with your Amazon Prime account. Now you can browse different shows and movies you wish to see.
Issues Faced While Streaming The Amazon Prime Video On Sony Smart TV. :-
Sony Smart TV users might come up with some of the technical issues while streaming the Amazon Prime. In order to resolve these issues, Try to follow the suggestions mentioned below.
Make sure you have a stable internet connection while streaming your favourite show to all movies in the Amazon Prime application. A stable internet connection helps you to watch movies without interruptions causing any difficulty.
In case the Amazon Prime video application doesn't function well, close and restart the application.
Look for any update of Amazon Prime in case you face any technical issue.
Also search for any update for Sony Prime TV. Make sure it is updated to the latest version for smooth streaming of Amazon Prime video.
Conclusion :-
I hope this article on how to watch amazon prime on sony smart tv helps you. In this article some of the major technical issues faced while streaming the Amazon Prime video on Sony Smart TV are also covered.

Also highlight the suggestion to solve the issues faced while streaming Amazon Prime video.