How To Watch Amazon Prime On Samsung TV
🕐 1 Jul 23
Amazon Prime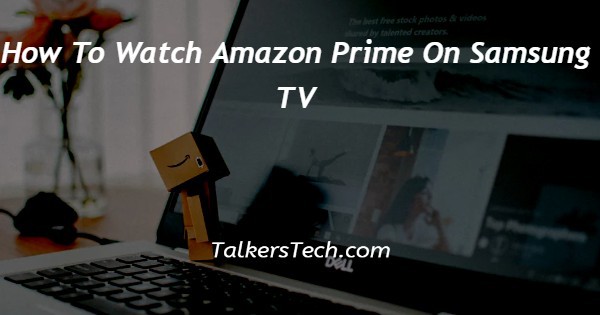 In this article we will show you how to watch amazon prime on Samsung TV, Amazon Prime is one of the most popular entertainment streaming platforms across the globe.
With its monthly subscription users can get to see a lot of content such as movies, series, documentaries, TV shows and others. A 30-day free trial of Amazon Prime is also available for the new users.
With an already built in Amazon Prime application on smart TV users do need to download the application from the app store and enter their account details.
Many of the TVs also provide playback of 4k content. In case you are looking for a solution on how to watch Amazon prime on Samsung TV this is the right article for you.
Step By Step Guide On How To Watch Amazon Prime On Samsung TV :-
In order to watch Amazon prime on Samsung TV you need to first installed it on your Samsung Smart TV.
Open your Samsung Smart TV and make sure it is connected to a stable internet connection.
Click the smart hub button on your Samsung TV remote.
Now you need to choose the Samsung app from the menu placed on the screen.
Search and tap the Prime video application.
An information page regarding Amazon prime will appear in front of you.
Click the install button to download the application.
Within a few minutes depending on the type of internet connection you have the application will download on your Samsung Smart TV.
Once the application is successfully installed, click launched to start the application.
Now you have two options in order to register your device.
The first option is to sign in and start watching. For this you need to put your Amazon account credentials such as your valid email id long with password.
The second method is to first register on the Amazon website in which and activation code will display on the screen.
With the help of this code you need to register the device.
After successfully registering your device you need to choose the specific movie or TV that you want to stream on Samsung TV.
Click watch now to stream it on Samsung TV.
Conclusion :-
I hope this article on how to watch amazon prime on Samsung TV helps you and in this article we covered an essential guide and the steps mentioned above are quite detailed and easy to follow and implement.