How To View Notes In PowerPoint While Presenting
🕐 9 Apr 23
Microsoft Powerpoint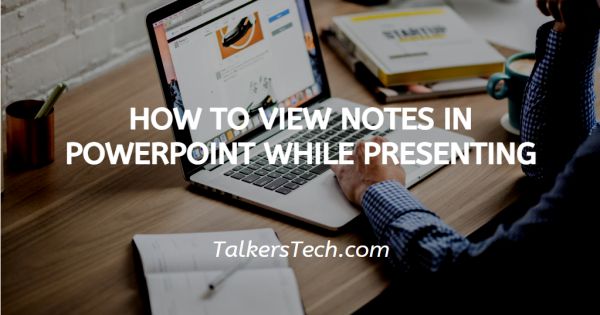 In this article we will show you how to view notes in PowerPoint while presenting, It is a well-known fact that if you are well prepared for your presentation, you will be confident and crisp.
While making a presentation, there are several little points of information that is not possible to fit in to slides, but that does not mean you can just ignore or skip them.

To make sure your presentation is wholesome, it is always advisable to add small notes that you can refer to while presenting it to an audience.

These notes must be accessible so you can make sure that you don't miss out on any important detail and provide your audience with complete information about the subject of the presentation.

If you have been wondering how you can access these notes at the time of presentation, you have come to the right place.

In this article, we will see how you can view notes in PowerPoint while presenting it. Follow the step-by-step procedure as explained below.
Step By Step Guide On How To View Notes In PowerPoint While Presenting :-
Switch on your laptop or PC. Click on the 'Microsoft logo' icon located at the left bottom corner of the screen. This will open a menu on the screen.
From the list, go to the Microsoft office and choose PowerPoint app.

You can also access PowerPoint from your mobile device if you have its app. If you do not, you can download it from the Play store.
Once you click on the icon, a small window will appear on your screen which will take you to the PowerPoint.
Go to the 'Slideshow' tab and click on 'From the beginning' option under the heading of Start slide show.

Now, in case you are operating with PowerPoint on a single monitor and you wish to display Presenter view, in Slide Show view, on the control bar at the left bottom, click on 'The Show Presenter View' button. From here, click on the icon represented by three horizontal dots inside a circle and 'Show Presenter View' icon.
As soon as you do this, the Presenter view will begin and on the right hand side of the screen, you will be able to see all the notes you have prepared to go with your presentation. Use the control panel to edit, go ahead or back, view all sides, etc.
Voila! We wish you all the best for your presentation and hope the trick helps you deliver great results.
Conclusion :-
I hope this article on how to view notes in PowerPoint while presenting helps you and hope the methods and steps above was helpful and that you keep visiting us again!