How To View Archived Emails In Outlook
Last Updated : Feb 24, 2022
IN - Microsoft Outlook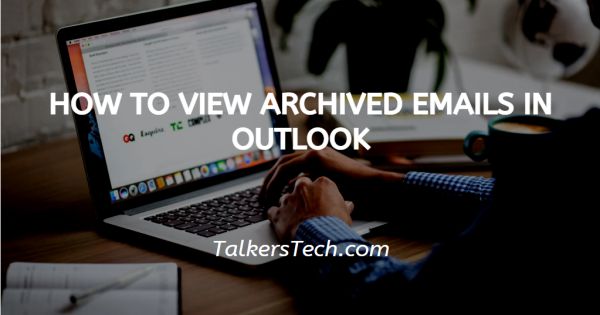 In this article we will show you how to view archived emails in outlook it is an excellent method to archive old Emails that you are no longer required to see instead of deleting them. This also helps to maintain the size of your Outlook mailbox.
You can easily access the archived emails in Outlook with the help of certain methods. Outlook uses an archive folder to maintain older emails.

Viewing archived emails in Outlook is easy with just a few clicks. Archiving your emails in Outlook is a clean method to declutter your inbox.

In Outlook you can only archive emails from your inbox folder there is no option of archiving emails in Outlook from other folders.

In case you are looking for a solution on how to view archived emails in Outlook, this is The right article for you.
Step By Step Guide On How To View Archived Emails In Outlook :-
Open Outlook on your system.
In case you do not have an Outlook account you can also create a new one for free by tapping create one below the sign-in box.
Make sure you are logged in to your account. In Case it does not log you in to your account simply enter your valid email id along with your password.
Look for the folder pane placed at the left corner of the outlook page.
It will show the option to compose a new email along with other options named Accounts and folder.
Under the folder section, you will see various options named inbox, draft, sent, and more.
Click the option more

Another drop-down menu will appear on your screen which will show various options named All folders, outbox, inbox, archive, Drafts, Sent, Deleted, conversation history and junk.
Click the archive folder from the drop-down menu.

Your archived emails will appear on the screen in Outlook.
Conclusion :-
I hope this article on how to view archived emails in outlook helps you, in this article we covered an essential guide.

Email Archiving is an email management procedure that controls and filters the user's emails systematically.

It permanently stores and secures users' information with no data loss. You archive an email; it disappears from your inbox and is moved to the Archive folder.

The emails which you do not want to delete because you may need them in the future can be archived. The steps mentioned above are quite detailed and easy to follow. I hope This article solves your query.