How To Use ZestMoney On Flipkart
Last Updated : Nov 12, 2021
IN - Flipkart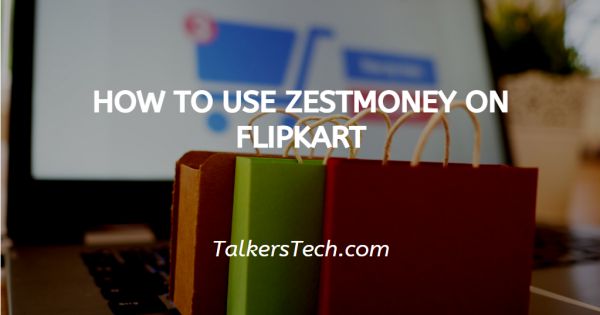 In this article we will show you how to use ZestMoney on Flipkart, our desires always seem to overcome our bank balance. We always want to order new stuff be it clothes, accessories, electronic gadgets et al but very rarely if not we are able to fulfill these desires.
We always resort to EMIs when we don't have enough balance but to buy something on EMI you require a credit card and to use a credit card you need an effective credit score, it's like the whole thing is conspiring against us.

To get us out of this dilemma Flipkart now allows you to buy things on EMI using your Zestmoney account.

Zestmoney is like credit card service but without credit score. You can do hassle free payment of up to Rs 2 Lakh. It allows you to do bulk transactions in one go and pay in 3 to 4 small EMIs. There is zero interest rate on any payment.

The good thing is that you don't need any credit card to pay the EMIs, the amount will be deducted from your registered debit card.

To use Zestmoney on Flipkart you will first need to make an account on Zestmoney which is very easy just follow the steps given below
Go to the Zestmoney website and tap on Sign up and enter your Email id and phone number. Verify your phone number and proceed.
Now to get a loan from Zestmoney you will need to provide your income proof and employment details. They will perform a risk analysis on the basis of the given details and then approve a loan if you are found eligible. Once your loan is approved you are good to go.
Note- You can directly create an account from Flipkart app during the time of checkout.
Step By Step Guide On How To Use ZestMoney On Flipkart :-
Open Flipkart app. Tap on the search bar and search for the product you wish to buy.
Select the product from the search results. Check the product details and delivery options and click on BUY NOW to proceed.

Now review your order and add address along with the contact information. You can skip this if your address is auto-saved in the app.
Now proceed to the payments page. Select the EMI option to continue

On the EMI page you will see option to pay from either Debit card or credit card. Under the Debit card section you will see Zestmoney EMI. Tap on it.

Once you select Zestmoney EMI as your payment option you will get an option to choose the EMI plan which suits you.
Your order will be placed once the loan will be approved. Your product will be delivered in 4-7 days by Flipkart.
Conclusion :-
You can easily get the products of your choice without caring about the budget using Zestmoney. It allows you to pay the amount in small installments. I hope this article on how to use ZestMoney on Flipkart helps you.