How to use U Dictionary app in WhatsApp
Last Updated : Sep 26, 2020
IN - Whatsapp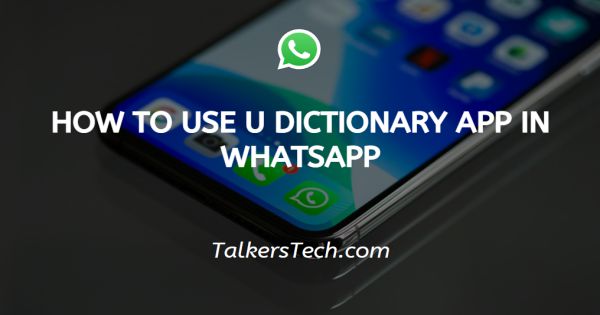 In this article we will show you how to use U-Dictionary app in WhatsApp , the latest version of u-dictionary android app (v.2.6.1) now allows you to just copy an English word in a WhatsApp message and instantly get the meaning in your native language via tap to translate feature, this feature works vice versa as well.
You can copy a word in any of the 10 Indian language supported by u-dictionary in a WhatsApp message and instantly get the meaning in English. The best part of this app is that translate feature works offline as well.

Several cool new features are available in this app like: picture dictionary, sample sentences offline and phrases have also been added in the latest version, you can translate any word or sentence Hindi to English and English to Hindi within a second and the major advantage of this application over other application is that it can show various definitions clearly at a relatively similar size, and it is very lightweight app which is suitable for all smart phone users.

U-dictionary helps users from all categories, be it students, teachers, and tourist, etc, it helps everyone regardless of language boundaries, once you download this app in your smart phone so you can feel very cool regarding to the language meaning or word meaning.
How does it work U-Dictionary on WhatsApp?
If we talk about WhatsApp so it provides many features to its users but there is no any kind of app like u-dictionary for translating any language, sometimes you need to translate any word or sentence and you need to know the meaning of the word or sentences while chatting on WhatsApp that time you have to go to the google translate application to know the particular word or sentences, and it takes time and go to the other tap on phone.

But now you can come out of this situation because now without changing tap you can easily translate any word or sentences in WhatsApp, hear we will guide you to solve it so let's start the process how can you use u-dictionary in WhatsApp?, follow the given steps which is given below:
First, download and install u-dictionary app from play store, it is free for all users.
Once you install this app then open it on you smart phone.
Then go to the three dots icon which is situated left top corner of the app and click setting button.

After tapping on setting button you will see many options then click on "copy to translate" option.

After that you have to click on "enable copy to translate" and "instant copy to translate" both options.
After completing all this process you have to go to the WhatsApp application and open the any chat or conversation on your contacts list.
Then long press the sentences or word which you want to translate.
After long pressing you will see the copy icon at top of your screen, after clicking copy icon you will easily see the meaning of sentences which you want to translate.
Conclusion :-
Finally you can simply translate the word or sentences Hindi to English and English to Hindi from WhatsApp chat messages or any website, hope this article on how to use U-Dictionary app in WhatsApp helps you.