How To Use Super Coins On Flipkart
🕐 1 Jul 23
Flipkart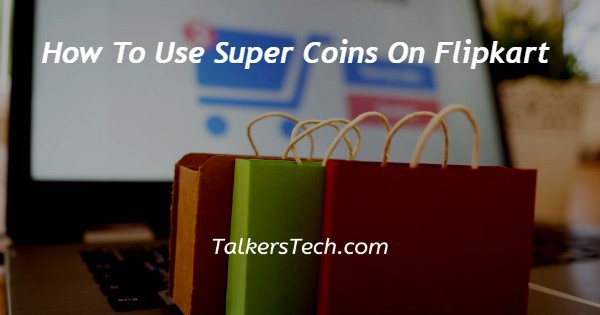 In this article we will show you the solution of how to use super coins on Flipkart, one of India's top online retailers is the Flipkart Group, which includes the businesses Flipkart, Myntra, and PhonePe.
Flipkart includes millions of customers, vendors, merchants, and small companies.
It has millions of customers who have registered. It offers choices including quick returns, no-cost EMIs, and cash on delivery.
You will receive Super Coins for every purchase you make on Flipkart when you utilise brand partners through Flipkart.
Super Coins are simple and straightforward to earn. Customers can also access the Super Coins system regardless of the payment method they want.
Any Flipkart customer can earn and use Super coins. Additionally, consumers can earn up to 100 Super coins every order and 4 coins for every 100 Rupees spent.
While non-plus users are only eligible to earn a limit of 50 Super coins for every order and 2 coins for every 100 Rupees spent.
Any Flipkart customer who earns 200 Super coins is immediately elevated to 'Plus' membership for the following 12 months and gains access to more benefits.
Are you trying to figure out "how to use Flipkart super coins" as well? If so, this area is the best location to learn more about how to use Flipkart super coin.
In case if you don't know how to use super coins on your Flipkart app we are here to explain how to use super coins on Flipkart orders. Let's get into the process.
Step By Step Guide On How To Use Super Coins On Flipkart :-
First, use the Play Store to download first most updated Flipkart app to your smartphone.
Open the Flipkart app after installing it, then log in with your account information.
The "categories" icon can be located at the bottom of your screen when you first open the Flipkart app.
Click on the categories icon and it will open an interface where you can see the super coin option.
Click on the super coin option so you can see various offers that are present on super coin usage.
Select the category on which you want to use your super coin.
Users with Flipkart Plus memberships have the option to utilise super coins to pay for their orders. Customers must only purchase items that are eligible for Flipkart Super Coin, though. Use the filter "Super Coins Price" to look for products that are appropriate whenever you wish to purchase online at the site with these coins.
To find products that fit your needs, use the 'Super coins pricing' filter.
From the Super coin Zone, you can receive coupons and EGVs.
With Super coins, you can purchase outright deals on the Super coins zone.
Customers can purchase products in a different area called the "Super Coin Zone" by spending their Flipkart super coins.
Users can book flights through the Flipkart app using the Flipkart super coin in addition to purchasing things.
Conclusion :-
In this article we have provided you the complete information on how to use super coins on Flipkart and with the additional information about the uses of super coins on Flipkart.
For every Rs. 100 we spend on purchases, Flipkart gives us 4 SuperCoins as a reward.
You can earn SuperCoins by participating in a variety of games or Daily Flipkart Quizzes.
I hope this article on how to use super coins on Flipkart helps you and the steps and method mentioned above are easy to follow and implement.