How To Use Solver In Excel 2016
🕐 21 Feb 23
Microsoft Excel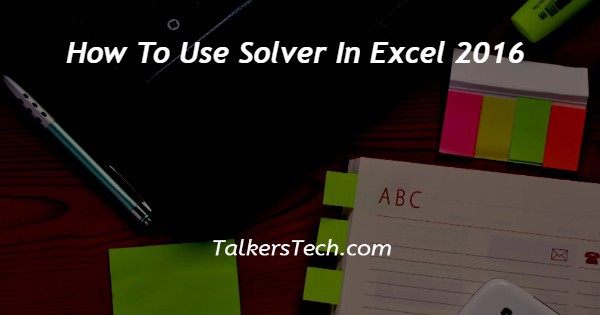 In this article we will show you the solution of how to use solver in excel 2016, Microsoft Excel is a powerful tool that has been in use in the professional world for decades.
It contains an array of functions and formulas that can help you with performing different arithmetic operations with just a click of a button.
One such tool is Solver. It used for the purpose of simulation, as well as optimization of different kinds of models that are related to various businesses and fields of engineering.
In this article, we shall see how can we can use Solver for the 2016 version of Excel.
Step By Step Guide On How To Use Solver In Excel 2016 :-
In order to learn how to add Solver in MS Excel, follow the steps given below.
Before you start using Solver in Excel, make sure to add it to the Data taskbar of Excel.
To add Solver to your Data Taskbar, first click on File.
Next, click on the More button. When you click on that, you will see a small box appearing next to it with some additional options.
Next, from that drop-down box, click on Options.
You will see that a new page has appeared with a lot of newer options.
From that page, click on the Add-ins options.
After that, go to the Manage section at the bottom the page.
From there, click on Excel Add-ons.
Next click on Go.
You will see that a new list has shown up on the page. From the list select on Solver Add-in.
Finally, click on OK.
Follow the steps given below to use solver for your calculations.
Open the spreadsheet with the required model that will be required for the application of Solver.
Click on the Data tab from the toolbar.
From there, under the Analyzer tab, click on Solver
A new box will appear with lots of options.
Next, you will have to specify the target cell and you have to do that in the Set Objective field.
Set the objective cell to D6, where the calculated result will be put.
In the Changing Variable Cells space, choose the cells you want to perform the operation on.
Then, you will need to specify the constraints of your data.
In order to add a constraint to your table, click on the Add option.
Enter the necessary data in that section to operate the solver function.
If you need to change any of the other solver options, you can do that here as well.
Next, click on the Solve option.
Then, after that is done, replace the original values with the value found with solver.
Finally, click on Save Scenario option.
Conclusion :-
With these methods, you can easily use solver in the 2016 version on Microsoft Excel.
I hope this article on how to use solver in excel 2016 helps you and the steps and method mentioned above are easy to follow and implement.