How To Use Referral Code In PhonePe
🕐 1 Jul 23
PhonePe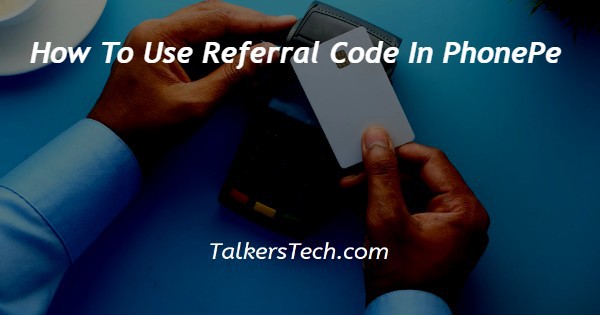 In this article we will show you how to use referral code in PhonePe, PhonePe users can get cash back and scratch cards through which they can utilize the referral code.
These codes can be used for specific services such as Zomato, online shopping, bills and payment.
PhonePe users can easily use this referral code on Android and iOS devices.
In case you are looking for a solution on how to use a referral code in PhonePe this is the right article for you just follow the steps given below in order to use referral code in PhonePe.
Step By Step Guide On How To Use Referral Code In PhonePe :-
On Android Device
Open Google Play Store on your Android device.
In the search bar, you need to type PhonePe.
Now click on the option to install in order to download this application on your Android device.
Once the application is successfully installed, click open to proceed further.
Assuming you have already created your account in PhonePe you just need to enter your mobile number and four digit password to login.
After successfully login to your account you will see 5 tabs placed at the bottom of the screen.
These tabs are called home, store, search, my money and history.
Click the option- transaction/ history
Here you will See the list of all the transactions made under your PhonePe account.
Now you need to tap on the relevant transaction to see if you have won cash back or are eligible for an instant discount.
Go to the home tab.
Below the option to transfer money you will see 3 options- PhonePe wallet, rewards, refer and earn.
Click the option- rewards.
On the next screen it will show you three options placed at the top of the screen called- cashback, offers and coupon.
When you scroll down you will see the details of the coupon.
For example you received a referral code for Zomato.
You just need to copy the code by clicking the option copy place next to the code.
Below this you will see the details such as expiry date, offer details, steps to avail of the offer and about Zomato.
Click the option order now placed at the bottom of the screen.
Once you click this option it will redirect you to Zomato.
Select the outlet and the food item as per the code.
In the summary page you will see the option to use coupon.
Here you need to enter the copied code from the PhonePe.
It will automatically provide you with the offer discount.
Select the mode of payment as per your choice.
Conclusion :-
In this article we covered an essential guide on how you can Use referral code in PhonePe.
I hope this article on how to use referral code in PhonePe helps you and the steps and method mentioned above are easy to follow and implement.