How To Use Google Pay In Store
🕐 21 Feb 23
Google Pay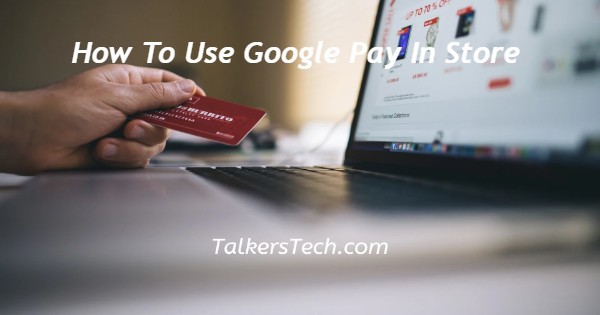 In this article we will show you how to use Google Pay in store, now people can easily make a payment with the help of Google Play in physical store as well as online store.
Users just need to hold their Android device near a compatible payment terminal.
After this the transaction will proceed automatically which is very convenient.
In case you are looking for a solution how to use Google Pay in store this is the right article for you just follow the steps given below in order to use Google Pay in store.
Step By Step Guide On How To Use Google Pay In Store :-
First you need to make sure that you have downloaded Google Play application on your Android and included one payment method.
Now you need to enable NFC on your Android device.
Open setting application and click the option connection.
Turn on the toggle place next to the option NFC and payment in order to allow data exchange.
Now make sure that Google Pay is Mark as the default payment method on your phone.
In case the Google Pay application is not marked as the default payment method you need to go to the application and notification in your settings.
From here you need to click the default app and then click the option tap and pay.
Under tap and pay you need to choose Google Pay as the payment default application.
Now when it is the moment to play with your card you need to first unlock your phone.
Position the backside of your phone near to the payment terminal for a few seconds.
If the terminal has a wireless symbol you need to put the phone nearest to the logo.
Once it touches the logon for the contactless payment symbol the Google Pay application will automatically launch.
Now you need to enter your pin or use the fingerprint reader to proceed further.
after a while you will see a check mark appearing on the screen which confirms that the Purchase is successfully completed.
in case your Google Pay does not start automatically after putting your phone nearest to the contactless payment symbol, you need to reposition your phone until it connect.
also you need to make sure with the cashier that the terminal to which supports Google Pay some older terminals does not include contactless payment.
Conclusion :-
In This article be covered an essential guide on how you can use Google Pay in store for making the contactless payment.
I hope this article on how to use Google Pay in store helps you and the steps and method mentioned above are easy to follow and implement.