How To Use Gaana App
🕐 1 Jul 23
Gaana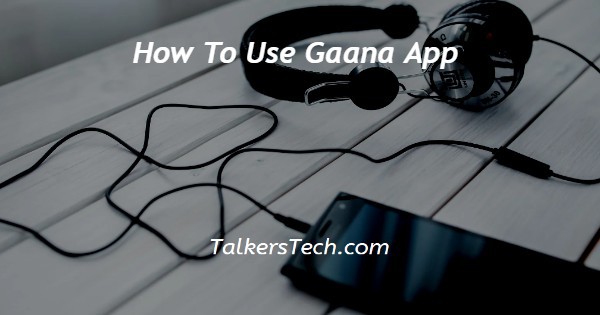 In this article we will show you how to use gaana app, Gaana is one of India's largest commercial music streaming platforms. It includes a huge range of both Indian and international music along with 21 Indian languages.
This application is supported in all of the operating systems including Android IOS and Windows.
This application is very useful for listening to podcasts and hearing amazing English tracks from renowned artists as well as you can stream HD music.
You can also download your favorite music tracks with the help of Gaana subscription which provides additional features such as access to HD music along with unlimited download.
In case you are looking for a solution on how to use gaana application this is the right article for you just follow the steps given below in order to use gaana application.
Step by step guide on How To Use Gaana App :-
First you need to install this application using Play Store.
You Can easily login into gaana application with the help of mobile number, Facebook or Google.
After entering your mobile or Email number you need to enter the one time password to proceed further.
After successfully login to your account you will see several options for you to explore.
You can browse through the homepage in order to get to know about various recommendations, Discover podcasts and much more.
At the bottom of the Gaana application you will see 5 tabs named home, search, podcast, my library and upgrade.
Now within the application in the home tab you will see some of the playlist and artists recommended by gaana application.
It will also show you the list of top charts, popular shows, trending songs in the selected languages and other genres such as romance, sad and others.
It also includes some of the playlist such as top picks, popular English playlist, retro music playlist.
Gaana application also helps you to listen to the music for the mood and genres that you can select from a variety of options such as romance, drive, bhakti, retro, EDM, hip hop and others.
However if you want to search music as per your own preference you can select the categories mentioned in the picture below or as per the mood.
The podcast tab provides you some of the top followed shows along with other categories such as horror stories and learning meditation.
It also shows you the top categories for listening to podcasts on gaana applications.
In the my library section you can see all the downloaded songs along with the albums and artists followed.
Conclusion :
I hope this article on how to use gaana app helps you and the steps and method mentioned above are easy to follow and implement. In This article we covered an essential guide on how you can use gaana application on your Android device.