How To Use E Voucher In Flipkart
🕐 1 Jul 23
Flipkart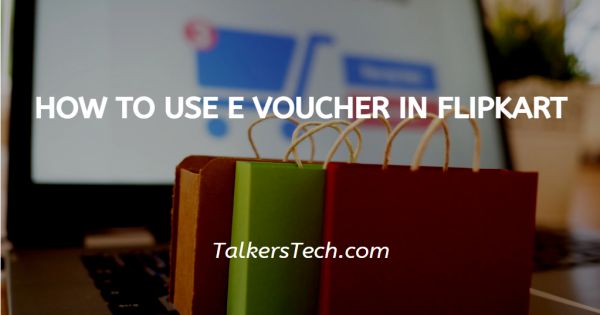 In this article we will show you how to use e voucher in Flipkart, Flipkart offers one of the largest online shopping platforms that brings the experience of shopping to your bedrooms.
Among the most popular trends in the age of GenZ is the concept of vouchers cards.

Social media platforms like Flipkart, Amazon, and etc. offer voucher and gift cards to its users that they can give to their friends and family as a present.

Therefore, what it does is, saves you the trouble of looking in endless stores for that one perfect gift for your loved one and allows the recipient to choose according to his own preference and choice from the Flipkart app.

Thus, you can be rest assured that your gift is actually appreciated, and not kept away in a corner of the store room or passed on to another person!

If you want to learn how to use an e-voucher on Flipkart, the procedure is simple and you have come to the right place. Keep reading the article to follow through with all the steps, let's go.
Step By Step Guide On How To Use E Voucher In Flipkart :-
Unlock or wake up your mobile phone using any pattern or password you have set.
Go to the 'App tray' on your device and click on the 'Flipkart' app icon.

This will take you to the home screen of the Flipkart account.
On the top left corner of the page, you will see the 'Menu' icon depicted by three horizontal lines.

Next, from the left, you will see a list of options to choose from. Scroll down and choose the 'My account' icon.

This will open a new page. On this page, bring your cursor to the 'My wallet and gift card' option from the list and click on it.

Now you will be able to see all the wallets linked to your account and the gift cards available.
Click on the 'Add Flipkart Gift card to your wallet' and then select 'Add a gift card' icon.

Next, add the 16 digit gift card number and the 6 digit pin.
Once you are done, click on the 'Apply' icon below.
Voila! The amount is successfully added to your account.

It is important to note that you can add up to 15 gift cards in one transactions while checking out for an order as well.
Conclusion :-
I hope this article on how to use e voucher in Flipkart proved to be of great purpose and helped to use the e-voucher card in the most fun way! We are glad you chose us to help you with the issue being faced by you!