How To Upload Photos To Dropbox From iPhone
🕐 1 Jul 23
Dropbox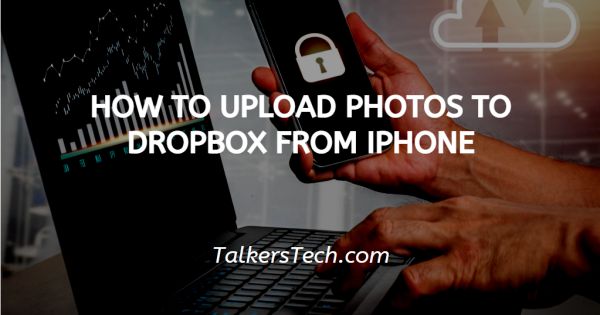 In this article we will show you how to upload photos to Dropbox from iPhone, Dropbox is a file hosting service that provides file synchronization and cloud storage. It offers users the option to build exclusive folders on each of their systems after the withdrawal box synchronizes them.
It offered GB free storage space which can store photos videos and other documents. You can also create a different folder to store the uploaded photos or videos.

Any of the changes done to a Dropbox folder will also affect other Dropbox folders. There can be various reasons for uploading photos to draw boxes from iPhones.

Users like to keep a local copy of important photos and videos for security. In case you are looking for a solution on how to upload photos to Dropbox from iPhone, this is the right article for you.
Step By Step Guide On How To Upload Photos To Dropbox From iPhone :-
First, you need to enable the camera upload feature in Dropbox to upload all the photos to Dropbox.
To do this launch the settings and tap camera upload.
Now, click on the enable option which asks you to turn on camera upload.
If the camera upload option is already enabled you will not see this message.
When you click the camera upload option, the next you will also see the option of background uploading. Enable this option so it eliminates the need to open Dropbox to back up your files.
Before uploading iPhone photos to Dropbox make sure you create a new folder so that it separates other files.
To do this, click on the file tab placed at the bottom of the screen.
Click the + icon placed at the bottom to create a new folder.
It will show various options name scan documents, take photos, record photos and create folder.
Now you need to give a title to your folder. For example iPhone photos.
After giving the title to your folder select done placed at the top right corner of the screen.
Folder of iPhone photos will appear on your screen.
Again tap the plus icon.
A drop-down menu will appear on your screen which will show options name scan document, record audio, and upload photos.
Now on the next screen you will see all the photos that are stored in your iPhone.
You can select individual or multiple photo based on the requirements that you want to upload to Dropbox.
After selecting the photos it will also display the exact number at the center Of the screen.
Click on the option upload to complete the process.
Conclusion :-
I hope this article on how to upload photos to Dropbox from iPhone helps you in this article we covered an essential guide and the steps and methods mentioned above are easy to follow.