How To Update WhatsApp In JIO Phone
🕐 1 Jul 23
Whatsapp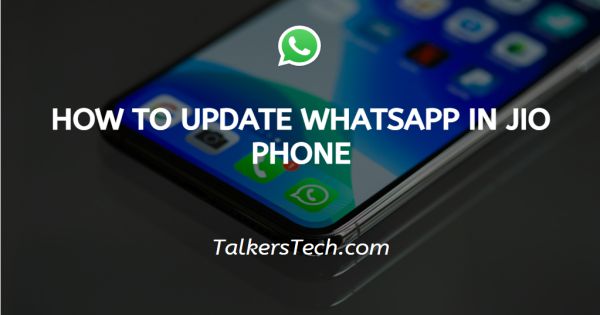 In this article we will show you how to update WhatsApp in JIO phone, JIO phone is a phone launched by JIO company which is the smallest and cheapest phone that has a lot of feature within it.
You can even use WhatsApp on your JIO phone, you can video call your family, friends, and loved ones with the phone.

JIO phone has amazed us with its features. JIO phone is a smartphone having a screen of 2.4 inches with the resolutions of 240 X 320 pixels.

It also supports VoLTE, whereas the connectivity of this smartphone avails 2G, 3G, and 4G network type, it also provides the facility of using the applications like WhatsApp, Twitter, etc. but with all these facilities it has just 512 RAM and 4GB storage.

But do you often face problems regarding any issue with the JIO phone? As a very general problem in JIO phone is about the updating of applications.

Do you also want to update WhatsApp on the JIO phone but you actually don't know how to do it? But now you don't actually need to be worried about anything because we are here with some really nice tips, tricks, or hacks.

Just follow the step by step guide below.
Step By Step Guide On How To Update WhatsApp In JIO Phone :-
The first and foremost step is that you need to do is to open the" menu".
After that previous step, you need to click on "JIO store".
Now after the previous steps, you need to click on "WhatsApp".
Then when you have a different interface you will click the centre button of you JIO phone as it clicks the icon of "update" automatically.
Conclusion :-
So, these are the steps that you will use while updating WhatsApp on your JIO phone and hereby these easy steps you have successfully updated the WhatsApp application.

So, here are some really nice tips, tricks, and hacks with actually no hurdles and lots and lots of ease as we tried our best to solve all your doubts in the easiest way possible I hope this article on how to update WhatsApp in JIO phone helps you.