How To Update Disney Plus App On PS4
🕐 9 Apr 23
Disney Plus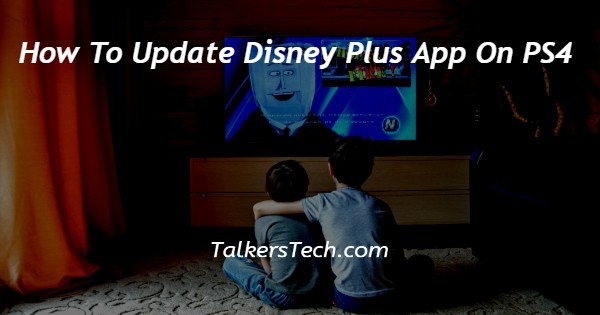 In this article we will show you how to update Disney plus app on PS4, it is very important to keep the Disney Plus App up to date on PS4 as It helps to fix any bugs and also improve the quality of the content that the users are streaming on Disney Plus.
Updating the Disney Plus also helps the users to get extra features that are recently added. There is no extra cost for updating the Disney Plus App on PS4.
It includes the entire Disney family along with Marvel, Star Wars, and Pixar. The cost of the Disney plus subscription is affordable.
It is one of the best video platforms for showing movie series And other documentaries.
Now users can see all the mind-blowing documentaries and other content directly to their PS4.
In case you are looking for a solution on how to update the Disney Plus App on PS4 this is the right article for you.
Step By Step Guide On How To Update Disney Plus App On PS4 :-
In the first step you need to turn on your PS4 or make sure it arises from the rest mode.
Now you need to log in with your selected playstation profile.
Click the Disney Plus application.
Click the option button on your PS4 controller.
A menu will appear on the right side of the screen.
Scroll down and click the option check for an update.
Now you need to click the X button on the PS4 controllers.
Now the PS4 will look for the playstation network to check if any updated version of the Disney plus PS4 application exists.
If there is any new update of the Disney Plus on PS4 it will automatically start downloading.
The new update will start downloading shortly and once it completed it will inform that the update procedure has completed successfully
However in case there is no new update for the Disney Plus app, users will get to see the message with information that the installed application is of the latest version.
The update feature of the Disney Plus is very helpful as it helps to see what new features are available in the latest version of the Disney Plus app.
Conclusion :-
I hope this article on how to update Disney plus app on PS4 helps you and in this article we covered an essential guide on how you can update the Disney Plus App on PS4 and the steps mentioned above are quite detailed and easy to follow and implement.
I hope this article shows your query and now you can update the Disney Plus App on PS4 as it costs nothing and is very easy to do so.