How To Unsubscribe From Disney Plus
Last Updated : Jun 6, 2022
IN - Disney Plus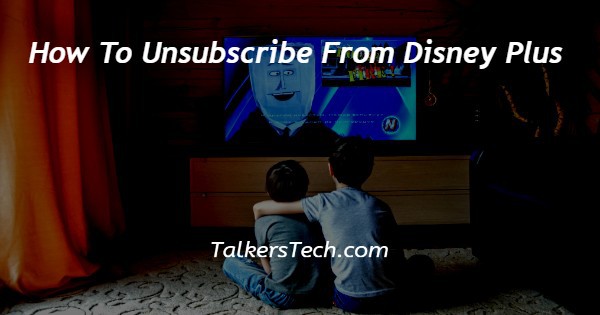 In this article we will show you how to unsubscribe from Disney plus, Disney plus is an extremely popular platform used by millions of people in over 40 countries.
It works on a subscription basis and provides a wide variety of genres, languages and industries.
Like most of the other online media streaming platforms, Disney plus also follows the strategy of attracting users by offering them a free-trial that allows them to get a feel of the platform and decide whether it is something that that works for them or not.
In order to experience the free trial, you need to register on the platform.
Here, you will need to fill-in all your details and even the payment method.
No fee will be charged during the free-trial but at the end of the free-trial period, the subscription fee will be charged against the payment method, if not cancelled.
However, you can also unsubscribe at any point after the free-trial.
In this article, we will explore the method that you can use to unsubscribe to your Disney plus account just follow the steps as explained in the steps below and you will be done in no time.
Step By Step Guide On How To Unsubscribe From Disney Plus :-
In order to start the process, the most basic and fundamental thing that you need to do is make sure you have an active internet connection or wi-fi connected with the device on which you wish to access your Disney plus account.
Once that is done, log into your Disney plus account using your username or mobile phone number on any device that is compatible. This could be your mobile phone, or your laptop or PC. For the purpose of this article, we will assume that you log in on the website on your laptop or PC.
Once you have successfully logged in, you will be taken to the homepage of your account. Here you will be able to see all the latest releases, titles that you have been watching, different genres, suggestions, etc.
In order to end your subscription on the platform, you will need to click on the 'Profile' icon with your profile picture.
As soon as you do this, you will be taken to the next page, click on the 'Account' option to proceed ahead.
In the next step, you will need to tap on your subscription that will be displayed as Disney plus monthly and so on.
After this, click on the 'Cancel Subscription' icon on the screen.
Here, in the next step, you will need to choose your reason for cancelling the subscription. Now this could be either from the options available or something else.
Finally, all that is left to do is to tap on the 'Continue to Cancel' option in order to confirm the action.
Conclusion :-
This is how you can unsubscribe to your Disney plus account in case it doesn't serve your purpose anymore.
I hope this article on how to unsubscribe from Disney plus helps you and the steps and method mentioned above are easy to follow and implement