How To Unlock ZTE Phone Without Gmail
🕐 1 Jan 23
Gmail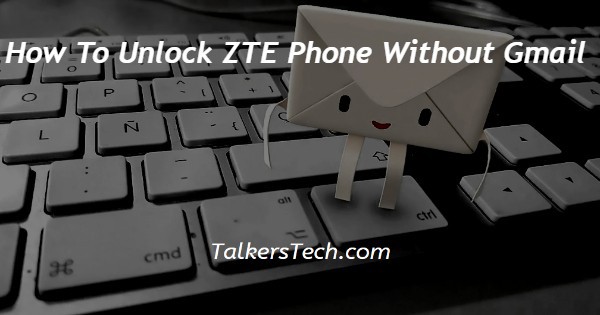 In this article we will show you how to unlock ZTE phone without Gmail, there are times when we forget the unlock pin or pattern of or Phone.
To resolve it the software ask to reset the phone, but phone reset means loosing all the dates stored in the phone which is not acceptable for us.
Sometime we might get locked out of the ZTE phone and not be able to access it. There is nothing to warry about it. In this article you will get your solution.
In this article you will learn 2 different method to unlock ZTE Phone without password these methods are very easy just follow the steps given below.
Step By Step Guide On How To Unlock ZTE Phone Without Gmail :-
Method 1- How to unlock a ZTE phone using ADB.
Before we start your shoulder know that your USB debugging mode is turned on then only you can use this method.
First you have to connect your mobile phone with your computer.
Now you have to open a command prompt window in your ADB installation directory.
After this you have to type "adb shell rm /data /system /gesture.key".
After this click on enter.
Then you have to reboot your phone.
After this you will see the secure lock is removed from the screen.
Now you can use your phone and set an new password also.
However, you can also unlock your zte phone using your gmail account but for this you should know your Gmail password and then you can unlock your zte phone just by following the below given steps.
Method 2- Unlock ZTE Phone forget pin without losing data.
For this method you have to use 'Google Find My Device' in your computer or and another device to unlock your ZTE mobile phone.
If you are using Android 7.1.1 or lower then use this website. Before starting make sure you phone is logged into Google account.
First Open your computer or any other device and go to the Website of ' Find My Device'
Now sign in your Google account in that device.
Then it's will start showing all the device which you have signed in this account.
Now select the ZTE phone you want to unlock.
After this you will get 3 options 'ring' ,'lock' and ' erase' there you have to select lock.
Now you will get a popping up window, to set a new password for your phone.
After you set a password, go to your mobile phone.
And now enter the new password which you have set in the browser.
Once you enter the password your device with get unlocked.
Conclusion :-
This were the two different methods to unlock your ZTE Phone without password. If you are worried about loosing your data then use the first method and if you have nothing important to losses then you can go with the 2nd method.
I hope this article on how to unlock ZTE phone without Gmail helps you in unlocking you phone and the steps and method mentioned above are easy to follow and implement.