How To Unlock Netflix Secret Menu
🕐 1 Jul 23
Netflix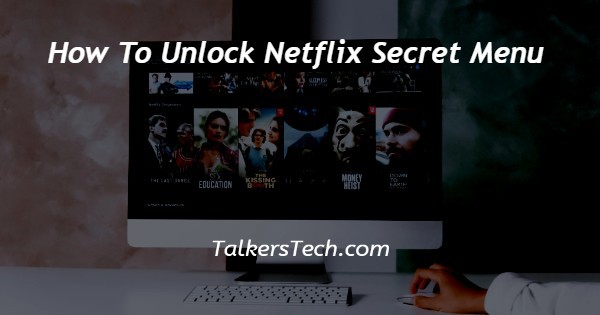 In this article we will show you how to unlock Netflix secret menu, with Netflix being one of the most loved and widely used online media streaming platform across all age groups and people, it has a massive collection and data of movies and shows from different countries and regions.
Thus, you might know that you know of all the shows and movies that Netflix has to offer to you.
What if I tell you that's not true?
Yes, you read that right. You might be confident that you know what all is there on Netflix from your visible library and suggestions but you have to understand that Netflix uses your viewing activity to monitor what you like to watch and brings you to similar and related content to watch next.
However, there are secret codes that help you access what is called the Secret menu of Netflix.
So now you don't have to worry about what to watch next and spend hours in the library.
What these codes do is help streamline and shortlist your search so you don't have to trawl through the gigantic library to find the perfect show or movie to watch next.
In this article, we will learn how to access the secret menu of Netflix and if you are interested to know how this can be done, simply follow the steps as explained below.
Step By Step Guide On How To Unlock Netflix Secret Menu :-
The first thing you need to know is that you can only access these secret menus using the site via the web browser and not the app on any device.
Open your web browser and navigate to www.netflix.com. Here, you will need to sign in with your registered email address and password.
In the next step, you will be able to see all the profiles in your account. Click on the one that you wish to access.
From the list displayed below, you can write down the code pertaining to the sub-genre or category of your choice.
For example, if you wish to anime shows and movies, write down the code- 3278.
Now in the address bar of your web browser, enter the following address- 'www.netflix.com/browse/genre/7424'.
Check the code again. You can enter the code for any sub-genre from the picture and change the code in the address given in step 6.
Once this is done, hit Enter.
The web browser will take you to show all the results of the genre you had used the code for.
For example, using the above code, you will be able to see all the search results of anime on your screen.
Conclusion :-
I hope this article on how to unlock Netflix secret menu helps you and the steps and method mentioned above are easy to follow and implement.