How To Unlock Facebook Account Without Id Proof
🕐 1 Jul 23
facebook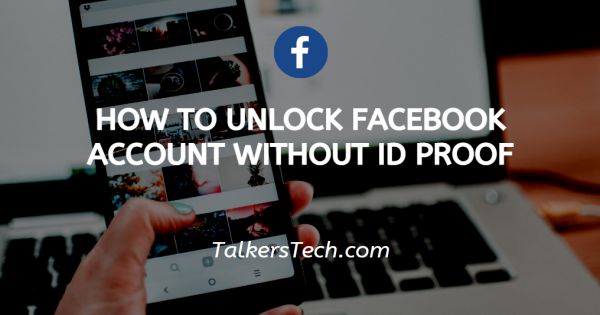 In this article we will show you how to unlock Facebook account without id proof, Facebook is among those social media platforms which are always trending and the number of users of Facebook increases day by day.
We can connect with our family, friends, and loved ones from anywhere and anytime. This is what makes the Facebook application more special.

And the most important thing is that Facebook is a trustworthy application or social media platform.

And hence Facebooks privacy policy has also become strict and the privacy policy is becoming strict as well day by day.

And when you go against the policies and rules of Facebook, your Facebook id gets disabled or it gets either blocked temporarily or permanently.

Now you must be thinking that what to do when your Facebook account gets blocked or disabled?

What if we will tell you that we have a solution for this problem like always.

Yes, you heard it right just follow the step by step guide below.

First of all, you need to know why your Facebook account has got disabled or blocked:
When you use a fake username or a fake profile picture
When you post fake content
When you harass or talk vulgar which doesn't allow on Facebook
When you log in too many times on different applications or sites
When you report unnecessarily people on Facebook
When your unusual activities on Facebook
Now coming to the point that how to unlock your account when it gets blocked or disabled.

If your account ever gets blocked or disabled, that means you have violated Facebook policies because Facebook has a very strict policy that we have told you earlier.

So what we would suggest you don't waste your time because there are very rare chances of getting your account back but if you have done it by mistake then you can appeal this to Facebook and then you may get your id back within 24 hours or max to max 72 hours.
Step By Step Guide On How To Unlock Facebook Account Without Id Proof :-
This way is only possible if you have added trusted contacts on your Facebook id
The first and foremost thing you have to do is open a chrome browser and search facebook.com
Then go to find your account page
Then what you have to do write your email address, phone number, and password.
Then the next step is to select an account from the list
Then tap on send OTP to the email address or phone number
Then enter the OTP when they ask
The moment your OTP will get confirmed at the same time your account will get unlocked
Conclusion :-
So, guys, this was the process did you see how easy it was I hope this article on how to unlock Facebook account without id proof helps you.