How To Unlock A Word Document That Is Locked For Editing
Last Updated : Nov 11, 2021
IN - Microsoft Word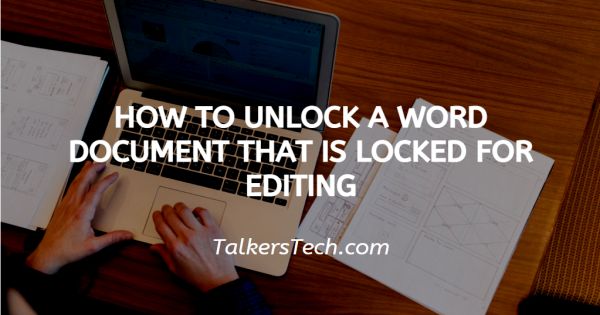 In this article we will show you how to unlock a word document that is locked for editing, MS Word is a Microsoft Office app or tool that allows users to write documents, emails, etc. It is widely used by professionals and students all over the world.
It contains several features that make the entire process extremely user-friendly and innovative.

MS Word also allows you to restrict any editing on a document by locking it. When you lock a document, it prevents any other user or person to make any changes to the document, thus makes sure that content in the document remains intact.

In this article, we will see how you can unlock a word document that is locked for editing.

Follow the steps as are explained below-
Step By Step Guide On How To Unlock A Word Document That Is Locked For Editing :-
Switch on your device, laptop or PC using your password, if any.
As soon as the system opens your account, you will be taken to the desktop.
Click on the Microsoft icon located at the left bottom corner of the screen to gain access to the menu.
From here, click on the MS Word app icon under the Microsoft office.
Now open the document you wish to unlock and edit. You may directly open the document from any other source or folder like documents, etc.
As soon as you do this a small dialog box will appear on the screen requiring for you to fill in a password.
Below the text-field, you will see the 'Read only' icon. Click on this icon.
This will open a Read only version of the file. Now, click on 'File' tab from the options available at the top of the screen.
Now from the list of options, select the 'Save as' icon.
Now save the ready only version as another file on your device.
Next, check the dialog box and click on 'Ok' to proceed ahead.
You will now be able to open the file and edit it without any restrictions or hassles.
You may check the success of the process by opening the file and trying to edit it.
Conclusion :-
That's all you need to do in order to unlock a file and enable editing in MS Word document. I hope this article on how to unlock a word document that is locked for editing helps you