How To Unblock Instagram Account
Last Updated : Nov 21, 2022
IN - Instagram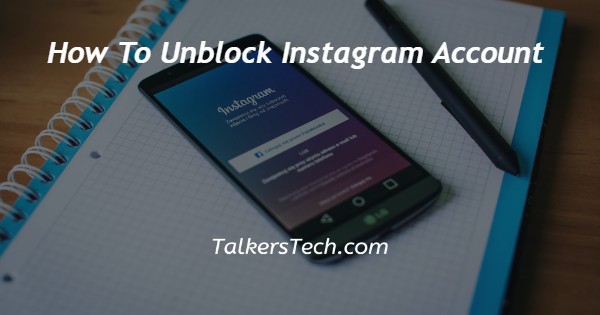 In this article we will show you the solution of how to unblock Instagram account, there is a possibility that sometime people usually block Instagram account and now they wish to unblock them in case they want to continue to chat or follow each other on Instagram.
To make this possible you need to unlock the Instagram account that you have previously blocked on your Instagram.
Instagram help the users to easily unblock Instagram account by using official application available for Android and IOS users.
Desktop users can also easily and block Instagram account with the help of official Instagram website.
In case you are looking for a solution on how to unlock Instagram account this is the right article for you just follow the steps given below in order to unblock Instagram account.
Step By Step Guide On How To Unblock Instagram Account :-
On your Android phone, launch the Instagram app.
Enter your Instagram login details after you've logged in to your account.
The Instagram account you want to remove must now be found.
There are 5 tabs. positioned near the bottom of the screen and marked as home. reels. profile and notifications search
By using the search option, enter the username of the Instagram account you wish to unblock from your account.
Select The three dots in this profile's upper right corner
The drop-down menu will include options such as report, unblock, restrict, copy profile URL, share this profile, about this account, conceal your story, show QR code, and others.
From the drop-down menu, choose the option unblock.
Alternatively without clicking the three dots placed next to the username you can also see the option below the bio.
These options are called unblock, message, contact.
Click the option- unblock.
After this a popup box will appear on your screen once you click and lock option from any of the two methods.
This inform that the blog account and other associated accounts with this username will now be able to request to follow and message you on Instagram.
Along with this information it also informed that the block user will not be notified once you unblock them on Instagram.
To confirm your choice to unblock the selected Instagram account you need to click the option and block placed at the bottom of the popup box.
After this and other pop up box will appear on your screen with informed that the Instagram account is unlocked and you can blocked them from their profile again if you want to.
Conclusion :-
In this article, we covered an essential guide on how you can unblock Instagram account on an Android device.
Once you unblock your Instagram account, they will be able to contact you and see your story, feed and other content on Instagram.
I hope this article on how to unblock Instagram account helps you and the steps and method mentioned above are easy to follow and implement.