How To Unblock In FB Friends
🕐 1 Jul 23
Facebook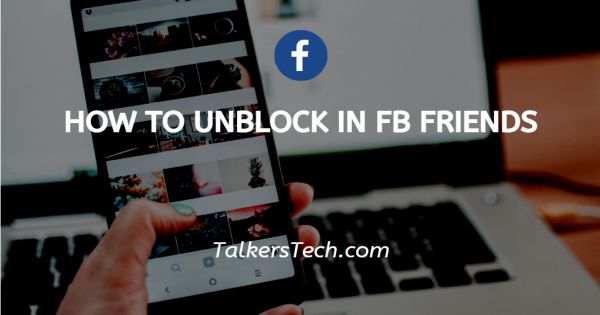 In this article we will show you how to unblock in FB friends, Facebook is a great place to meet new people and it has proven to be such a place. It is really easy to become friends and talk endlessly about astronomy, science, conspiracy theories and many more.
You get to meet people with different interest. You can come across them either through a friend and become a mutual friend or be a total stranger. But sometimes these strangers can creep you out and to stay safe people usually block them.

It is a very common practice among the teenager as they are not sure whom to trust. The easiest and convenient way to shun people out of your life who you don't feel comfortable being on your profile or does not like their vibe.

But sometimes people who block other people have a change of heart and decide to unblock them. It is also one of the easiest ways to bring back people to your account. Unblocking is really easy to work with and you can unblock everyone who you once blocked.

But not everybody is familiar with how to unblock people on Facebook. As always, we are once again back with a solution to your problem and will be telling that in the article below.

All you have to do is log in your Facebook account and follow the steps given below. This is going to take less than 5 minutes of life and will be helpful to you.

Follow the steps given below and unblock the people you have a change of heart for
Step By Step Guide On How To Unblock In FB Friends :-
Log in to your Facebook account with your Mobile Number or Email address and Password.

Go to "Menu" and click on "Settings and Privacy" to go to a new page.

Under the heading of "Setting and Privacy", you will find many options. Click on the "Settings" in order to go ahead.

On the left side of your profile, you will find multiple options under "Settings". Click on the option of "Blocking" in order to go ahead.

A list of all those you have blocked in the past will show up in front of you. Click on the blue option of "Unblock" in front of the name of the person you want to unblock.

A new bar will show up in front of you asking "Are you sure you want unblock the ---------- person?" You are supposed to click on the blue option of "Submit" to unblock them and you will be able to see them around your profile.
Conclusion :-
I hope this article on how to unblock in FB friends helps you and now you are able to unblock the person you wanted to unblock.