How To Type In Hindi Use English Keyboard In WhatsApp
Last Updated : Dec 30, 2020
IN - Whatsapp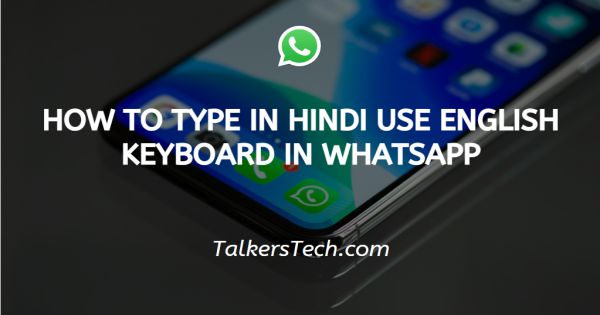 In this article we will show you how to type in Hindi use English keyboard in WhatsApp, WhatsApp is a social media application which solely provides best texting-chatting experience with other features too.
It makes texting easy and experience-rich for people as it provides way too many emojis to deliver every expression of the user, it provides us stickers which we can send stickers depicting the trending memes around the world.

It also offers features like calls over internet both voice call and video call. We can send text in the most-used language in the world i.e. English language. As 'The Great British Empire' was the biggest empire in the world it made English common in almost every part of the world.

We know that as English is used in almost every country that's why app developers make their applications in default English language. Same is the case with WhatsApp application. In WhatsApp everything that we see is in English but if we want to, we can change the default language of the application in settings.

But since English is sow widely used in the world we have a habit now to see everything in this language, so most of the people stick with the default system language. But what if you want to send someone a text in your native language and you do not want to change your system's language and keyboard too?

In this article we will tell how you can text someone in Hindi while typing English in your keyboard.
Step By Step Guide On How To Type In Hindi Use English Keyboard In WhatsApp :-
For this you need to download an application.
Go to Google play store and search for 'Google Indic Keyboard'.
For assist, picture of the logo of the application is mentioned in the picture attached below.

After downloading and installing, allow all the permissions it asks for.
Now tap at 'Select input language'.

Turn Off 'Use System Default Language'.

Turn On 'Hindi & Hinglish'.

Now go to your WhatsApp.
Select the contact to whom you want to send the text-message.
Now whatever letter you will type in English keyboard, it will be converted in Hindi language.
Conclusion :-
Now you can send Hindi text messages to your contacts while typing in English. Share this trick with your friends and families and make sure you give them the full information. I hope this article on how to type in Hindi use English keyboard in WhatsApp helps you.