How To Turn On Subtitles On Netflix Apple TV
Last Updated : Mar 3, 2022
IN - Netflix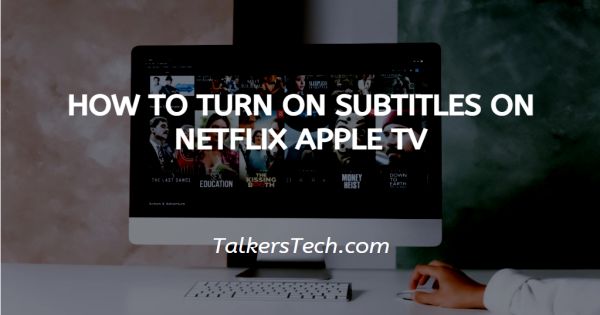 In this article we will show you how to turn on subtitles on Netflix apple TV, Netflix has become the most popular entertainment source, and it has millions of users across the globe. With its subscription plan users get a lot of benefit from watching movies shows and other content in various languages.
Subtitles provide an important tool for the people who cannot understand the context of the show or who are deaf.

They are also useful in the time where the volume cannot be turned up to full extent. In case you are looking for a solution on how to turn on subtitles on Netflix Apple TV, this is the right article for you.
Step By Step Guide On How To Turn On Subtitles On Netflix Apple TV :-
When you turn on the subtitles on Apple TV, it will require the user to have TV OS 9.0. It should adjust subtitles from the Apple TV menu; they are adjusted within the Netflix application.
In order to change the setting on Apple TV
Open the Apple TV home screen and select the option settings.
Under settings select the general tab.
The general tab will display various options. Select accessibility.
The accessibility tab will provide various options such as closed captions and SDH, style, Audio description, voice over, zoom, bold text, increased contrast and others.
Turn on the option closed caption and SDH place under the accessibility tab.
In order to adjust the settings within Netflix application
Firstly you need to download the Netflix application from App Store on Apple TV
Open the Netflix application on Apple TV.
In case you are not logged into your account simply enter your Netflix account credentials to proceed further.
After successfully signing in to your account, select a specific profile for which you want to turn the subtitle on Netflix Apple TV.
Now you need to select the TV show or movie.
When the TV show or movie is playing on the Apple TV, scroll down the Touchpad on your Apple TV for remote.
From the remote you need to select the specific subtitle language or closed caption + SDS options.
Users can also put a closed captioning to an accessibility shortcut on their AC Remote which helps you to control the subtitles by simply triple tapping the menu button.
In order to do so simply open the settings on your Apple TV.
Go to the accessibility tab and click the accessibility shortcut.
Conclusion :-
I hope this article on how to turn on subtitles on Netflix apple TV helps you, in this article we covered an essential guide and the steps mentioned above are detailed and easy to follow. I hope this article solves your query.