How To Turn Off Data For WhatsApp In Android
🕐 9 Apr 23
WhatsApp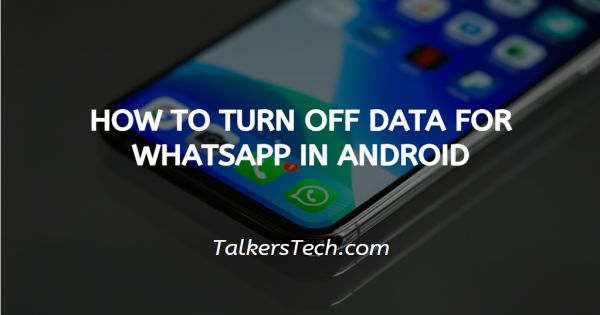 In this article we will show you how to turn off data for WhatsApp in android, it is relatively easier to take a detox from social media platforms like Instagram, Twitter, Facebook, etc.
However, WhatsApp is an app we now need even for our routine daily work, be it ordering groceries, to catching up with friends or connecting with people from work, and what not!

However, if and when you do need a "WhatsApp detox", the app allows you to do it in just a few quick and easy steps.

What this will essentially do is restrict any notification or message from the app.

Therefore, if you have been looking for ways of how you can turn off mobile network data for WhatsApp on your android device, you have come to the right place, search no further!
Step By Step Guide On How To Turn Off Data For WhatsApp In Android :-
Unlock your phone, go to the 'App tray' and select the 'Settings' app icon from the list.

Once you click on the icon, you will be able to see a menu. From the menu, choose the 'App info' option by opening the 'Apps and notifications' icon.

Choose the 'WhatsApp' icon and tap on it.

You will now be able to see various features related to the app.
Click on the 'Force Stop' icon located at the right side of the page.
By using this method, you will restrict absolute data consumption or usage by the WhatsApp app to receive or process any notifications. For optimal results, you can even disable the notifications for WhatsApp.

Another way you can turn off notifications for WhatsApp messages and calls is by disabling the background data usage by the app. This will block all network connections to your app.

As you might already know, all apps use data to bring you notifications or messages even when you are not actively accessing the app.

Disabling background data will kill the WhatsApp app without you having to literally delete the app or uninstall it. It will make it absolutely inactive.
Conclusion :-
WhatsApp is an app which is hard to simply log out from. No doubt it is extremely convenient to operate; however, this may at times cause unnecessary annoyance owing to the massive numbers of forwarded messages, active groups, etc.

Other ways of achieving the same is by simply disabling the notification pop-up, silencing the tone and the notification light.

I hope this article on how to turn off data for WhatsApp in android helps you.