How To Transfer Myntra Credit To Bank Account
🕐 1 Jan 23
Myntra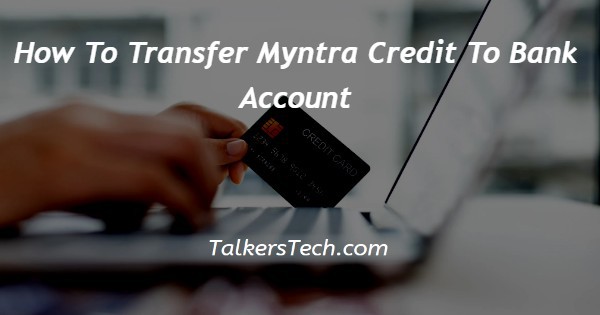 In this article we will show you how to transfer Myntra credit to bank account, recently, Myntra introduced its own payment wallet "Myntra Credit".
It's a wallet of Myntra in which you the gift cards that you get are transferred.
When you order something from Myntra, and you pay the amount through any online method, and then you cancel your order due to any reason, the amount that you paid gets transferred to your Myntra Credit.
Many people wants to get that money transferred directly into their bank account.
There is no direct way to do that but you can do it indirectly. In order to get your Myntra Credit transferred into your bank account, all you have to do is follow the below mentioned steps as they are.
Step By Step Guide On How To Transfer Myntra Credit To Bank Account :-
Open the Myntra app from your mobile phone.
After that, go to the My Account option.
Then, among all the options which will be there, you have to choose the option of Myntra Credits.
You will be able to check your Myntra Credits there.
Then go back to the home page and select any product, which is approximately equal to the amount of your Myntra credit.
Then click on the buy option.
As a mode of payment, choose the Myntra credits option.
Then wait for your order to get delivered to you.
Once your order is delivered, then go to My Orders.
Then Click on the order that you paid for with your Myntra Credits before.
And then select the refund option.
There you will see an option of refund to Myntra Credit and back to source.
Click on the back to source option.
You will see two box there to accept. Some amount will be transferred to your myntra credit and some will to your bank account.
Accept both of the following and then the a portion of the amount will be refunded into your bank account and a portion will be refunded to your Myntra credit.
Conclusion :-
I hope this article on how to transfer Myntra credit to bank account helps you and the steps and method mentioned above are easy to follow and implement.
This is how you can get a portion of Myntra Credit transferred into your bank account.
There is no direct way to transfer your Myntra Credit to your bank account.
This is why you will have to follow the above mentioned steps. By following the above steps you will be able to transfer a portion of your Myntra Credit into your bank account.