How To Transfer Flipkart Wallet Money To Bank Account
Last Updated : Jan 14, 2022
IN - Flipkart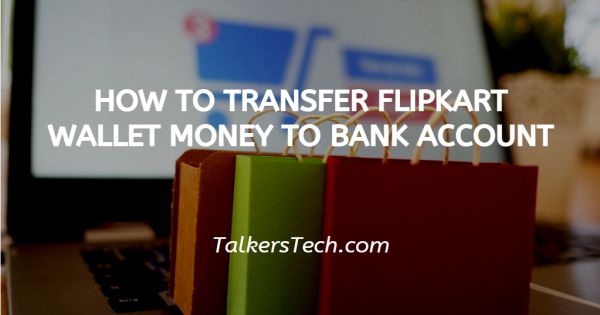 In this article we will show you how to transfer Flipkart wallet money to bank account, Flipkart offers one of the largest online shopping platforms that brings the experience of shopping to your bedrooms.
It offers a wide range and variety of products to choose from starting from the basic essentials to heavy-duty furniture, electronics, apparels, etc.

Having money in your Flipkart wallet makes making transactions on the platform easy and quick.

But have you ever wondered what you can do to transfer this balance to your bank account?

If you have been contemplating about the same, you have come to the right place.

In this article, we will try our level best to help you understand how the app works and if you can transfer the wallet money to your bank account.

The first thing that you need to understand is according to the terms and conditions and policies of the company, the users are not allowed to transfer money from the wallets to their bank accounts.

However, there are ways to go around it. One of the easiest tricks is to make a purchase and cancel it shortly.

What it leads to is the ability to choose the refund of the order to be transferred straight to your bank account and not your wallet.

Moreover, if you download the PhonePe app and activate it on your Flipkart account, you will be able to shift the wallet balance to your account without any charges or fee, in a matter of seconds.

PhonePe is a digital wallet app by Flipkart. You can find this app from the Google Playstore. It allows you to link various sites and make seamless and quick transactions.

It has all the traditional features like payment of electricity, telephone, etc. bills and moreover, it makes sure that you are able to make the most while shopping, especially during sales and limited offers. Let us see how you can use PhonePe.
Step By Step Guide On How To Change WhatsApp Storage To SD Card In Samsung :-
Download the app from Google Playstore.
Sign up and register with your details and bank account on the platform.
Now, open your Flipkart app or visit the site at http://flipkart.com

This will open the homepage of your Flipkart account. Click on the 'Menu' icon located at the top left side of the screen.

From the list that opens on the left side, click on the 'My Account' option.

This will take you to the next page. Click on 'My cards and wallet' option.

Tap on 'Activate Now' and verify your details and phone number.
And done! You have successfullu linked your PhonePe wallet with your Flipkart account.
Now under PhonePe wallet, you will see the option to be able to transfer the balance back to your bank account.
Apart from this, the Internet will show you several other tricks, but these are neither reliable nor effective.

Thus, the Flipkart shopping platform gives you no option to shift your wallet money to your bank account, just like its other competitors.

The main reason why online shopping platforms adopt this policy is to make sure people use the wallet balance to purchase from their sites only.
Conclusion :-
I hope this article on how to transfer Flipkart wallet money to bank account helps you and that the steps and methods provided above proved to be helpful for you.