How To Transfer Data From Excel To Word Automatically
🕐 1 Jan 23
Microsoft Word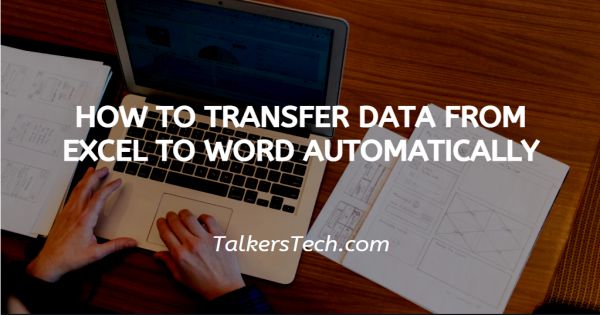 In this article we will show you how to transfer data from excel to word automatically, MS Excel and MS Word are two apps of the Microsoft office often used by professionals together to present data.
If you have been wondering how you can transfer data from Excel to your MS word document automatically, you have come to the right place. In this article, we will see how this can be done.

Follow the steps as explained in the points below to transfer data from your Excel sheet to your MS Word document in just a few quick and easy steps.
Step By Step Guide On How To Transfer Data From Excel To Word Automatically :-
On your MS Word document, you will be able to see a ribbon at the top of the page. Here, all the tools and features of the tool are organised under various headings and categories.
Click on the 'Mailings' tab from the ribbon. This will display all the tools related to mailings.
From here, click on the 'Select recipients' icon.
This will open a drop-down list on your screen with a few options. From among these, click on 'Use an existing list' option.

This will open a new window on your screen. Now go to the location where you have saved the Excel sheet that you wish to transfer to the MS Word document and click on the 'Open' icon located at the right bottom corner of the window.
As soon as you do this, a new dialog box will appear notifying you regarding the transfer of data, click on 'OK' to proceed ahead.

In the next window, you will be asked to specify the sheet and cells that you wish to transfer to the word document. Once done, click on 'OK'.
Now in the Word document, select the area where you want the data to be displayed.
In the next step, click on the 'Insert merge field' icon. Now chose the appropriate option from the list.

To view the result, click on the 'Preview results' icon from the Mailings tab.

Now repeat the above mentioned step of all the locations in the file.
You can also check the items by clicking on the arrows located right above the Find recipient icon.
Conclusion :-
This is how you can transfer data between excel to word easily and automatically I hope this article on how to transfer data from excel to word automatically helps you and the steps and mentioned above are easy to follow.