How To Trace The Origin Of WhatsApp Message
Last Updated : Oct 1, 2021
IN - WhatsApp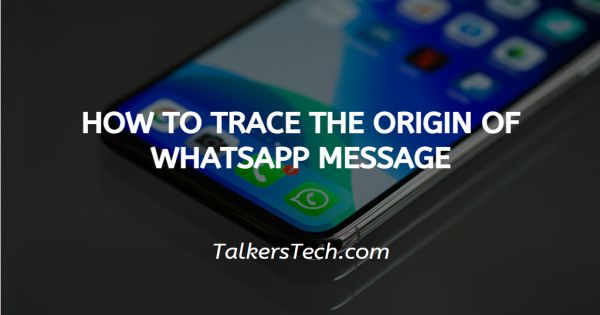 In this article we will show you how to trace the origin of WhatsApp message, due to increase in the number of cyber-crime cases since the last two decades, various machineries have seen set up to curb the crimes.
There are separate cyber-crime cells made by the police forces who deal with cyber-crimes only. This has also put pressure on social media companies to constantly regulate and update their security settings and features to allow for optimum protection.

Despite of best efforts by all parties involved, there are loopholes and hacks that allow people to spread misinformation and fake news over the social media platforms.

One of the most popular from among all is WhatsApp messaging app.

This will help us in confirming the source of information and verify its credibility.
Step By Step Guide On How To Trace The Origin Of WhatsApp Message :-
Open your mobile phone and swipe up on the home screen to open the App tray. From here, click on the 'WhatsApp' app icon.

On the 'Search bar' located at the top of the page, enter the name of the person who has sent you the message whose origin you wish to trace and press on the 'Magnifying glass' icon.

Choose the name from the list and click on it. This will open your chat with the sender of the message.
Now long-press on the specific message. This will open a menu of options on top of the interface.
Next, click on the 'Information' icon as shown in the image below.

Once you tap on the 'Information' icon, you will be able to see a list on the screen of your mobile phone. The first one is Seen, the second one is Delivered and the third and last option from the menu signifies how many times the message concerned has been forwarded.
This is as far as you can go to trace the origin of a message on WhatsApp. What it essentially does is serve the purpose of helping you learn about the message you received and its originality.

Talks are that the WhatsApp Company is planning to launch a feature that allows you to trace the message right to the tee or the original writer of the message.

Based on the number of times the message has been forwarded, you must verify the same using any credible and reliable source of information on the internet.
Conclusion :-
This is how far you can learn about the origin of a WhatsApp message.

I hope this article on how to trace the origin of WhatsApp message helped you understand and learn more about the problem you are facing.