How To Stream Disney Plus On TV
Last Updated : Jun 7, 2022
IN - Disney Plus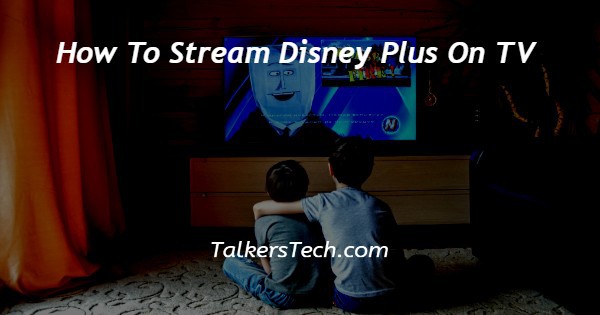 In this article we will show you how to stream Disney plus on TV, Disney plus is an online media streaming platform that contains a large collection or library of movies, shows, series, etc. curated from different parts of the world.
Its popularity has grown by leaps and bounds in the recent years, especially during the lockdown imposed all over the world due to covid-19 pandemic.
Owing to its immense popularity, it is a platform that has been made available in the latest Smart TVs of today's times. Smart TVs have revolutionized the experience of streaming media online.
You no longer need to tire your hand holding the phone in your hand, or connect external speakers to your laptop, etc. while watching your favourite movie or show.
All you have to now do is switch on your TV set and continue watching, without any hassle or trouble.
In this article, we will see how you can stream Disney plus on your TV in just a few quick and easy steps. There are two methods that you can try.
Step By Step Guide On How To Stream Disney Plus On TV :-
In the first case, if you have a smart TV at your house, click on the 'Home' button on the remote control. This will open a panel of apps downloaded on the TV.
All you need to do is go over to the Content store, and download the Disney plus app.
Now you will be required to log in to your Disney plus account using your username, mobile phone number, QR code, etc. and password.
This will give you access to your account and you can enjoy streaming your favourite content.
The second method can be tried on case you don't have a Smart TV.
In this case, you will need an HDMI cable and a laptop.
On your laptop, log into your Disney plus account and click on the title that you wish to play.
Now, connect one end of the HDMI cable to the laptop and the other end to the TV port.
Next, you will need to go over to the HDMI channel connected on the device.
As soon as you do this, the laptop screen will start mirroring onto the TV screen.
Alternatively, you can also use the 'Cast' option available in mobile phones and TV to cast or mirror the phone screen onto the TV.
Conclusion :-
This is how you can stream Disney plus on your TV. The process will only take a few minutes but will elevate your streaming experience to a whole new level.
I hope this article on how to stream Disney plus on TV helps you and the steps and method mentioned above are easy to follow and implement.