How To Stop Security Check On Facebook
Last Updated : Jun 12, 2021
IN - Facebook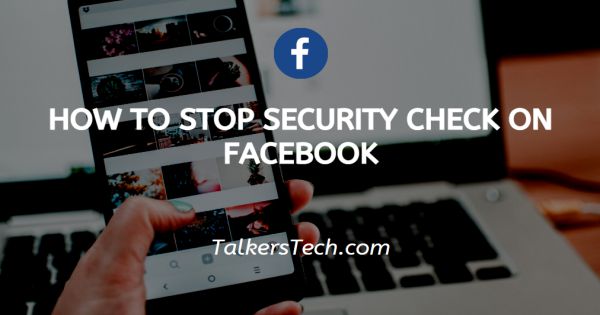 In this article we will show you how to stop security check on Facebook, Facebook is one of the most used apps in today's time. It is of no surprise that the platform has ensured various security checks in order to make sure that the sensitive data of the users remain protected.
Security check is prompted by Facebook when one tries to send friend requests to unknown people and on various similar occasions when verification is required.

These security checks are generally in the form of CAPTCHA or image verifications and is used by Facebook to detect unsafe activities on your account.

To prevent these security checks from coming up, one needs to verify his/her Facebook account with an active phone number. This is important as these security checks can get irritating beyond a certain point.

To understand as to how it is done, here are a few simple steps.
Step By Step Guide On How To Stop Security Check On Facebook :-
Log into your Facebook account.

Perform an action that causes the security check to pop-up; like send a friend request.
Click on the Verify Your Account link in the security check box or the CAPTCHA box. This is visible as a blue text just below the box where you need to enter CAPTCHA.
This will lead to another pop-up window opening up on your screen. This is the confirmation page. Select your country code from the drop down-menu. (It is initially set as [+1] for United States).
Enter your phone number in the Phone Number box and click on Confirm.

After clicking, the page transforms into one for entering the code. Wait for the confirmation code to arrive on the phone number that you entered on the previous page.
If you don't receive a code, click on the Resend Code link for receiving another text message containing the code on the phone number you provided.
Make sure your phone number has an existing plan.

Enter the verification code that you received, in the box next to Code, and click on Confirm. Your account has now been verified and the security check is turned off.
Conclusion :-
So, following these basic steps you can stop security check on Facebook.

After following these steps to stop security check, Facebook will not prompt any pop-up notification as security check when you send out friend requests to unknown people or for any such activity.

Facebook has verified your account and you don't need to worry anymore.

This is a simple and easy process to ensure that your account gets verified and Facebook no longer gives you irritating security checks I hope this article on how to stop security check on Facebook helps you.