How To Start Windows 10 In Safe Mode While Booting
Last Updated : Oct 7, 2021
IN - Windows 10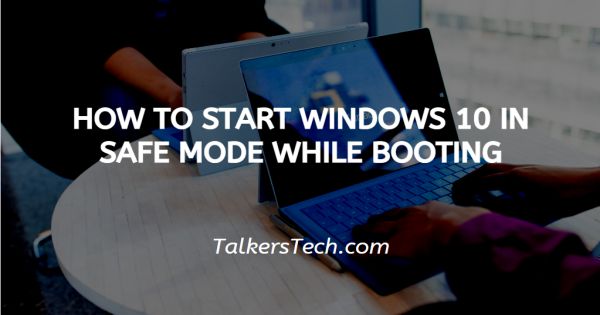 In this article we will show you how to start windows 10 in safe mode while booting, problem with windows 10? Don't worry! Sometimes computer just stop working or get freezed. This happen when your computer get in contact with virus or installed some improper devices.
There are many websites or file which are infected by the virus and when you open those websites or files your computer also get effected and start behaving abnormally sometime cursor doesn't work, computer get freezed, files not opening etc.

In this case windows 10 safe mode will help you to recover your problem.
What Is Windows 10 Safe Mode?
Windows 10 safe mode helps you to Start your computer in a normal state by using few sets of files and drives. Safe Mode observe the problem occurring in your computer and can help you troubleshoot problems on your computer.

If you are starting Windows 10 in Safe Mode, it will only allow starting up basic system programs and services in booting process.
Step By Step Guide On How To Start Windows 10 In Safe Mode While Booting :-
There are several ways to recover your computer but windows 10 safe mode is the easiest and fastest way. There are few steps which will guide you to Start your windows 10 safe mode while booting. Follow the given steps given below.
Click on the power button.
You can also do this on the login screen as well as in Windows
Then hold shift key and restart.
Then click on the troubleshoot and then click on advanced option.
Once you get into advanced options click on start-up settings.
Then inside advanced options click on restart.
Once you click on restart you will get many options but only few options are relevant. F4, F5, F6 are the relevant options
Enable safe mode (F4) starts the operating system (OS) only with the few installed devices and the main function.
Enable safe mode with networking (F5) in this process the networking devices also started also you need to access the internet and the other services on your network.
nable safe mode with Command prompt
In this process , the operating system is started in text form. There is no networking but it needs a professional user because it knowledge computer command.
Now your windows 10 booted in Safe Mode.
Conclusion :-
After all this you may not see any difference but once you login you can see the safe mode text in our home page. I hope this article on how to start windows 10 in safe mode while booting helps you.