How To Spend Supercoins In Flipkart
🕐 1 Jul 23
Flipkart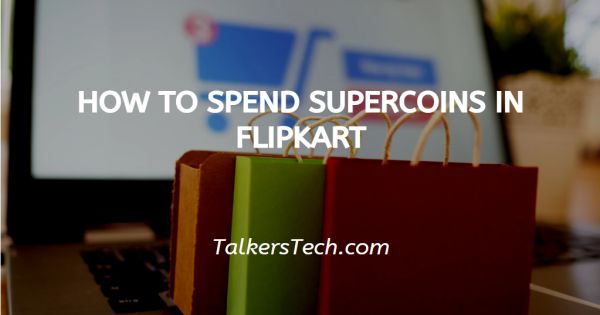 In this article we will show you how to spend supercoins in Flipkart, Flipkart is the widely used e-commerce platform in India. It is used by millions of Indians on a daily basis to buy the things they need. Flipkart sells almost anything and everything.
Flipkart is so popular in India because it never fails to give amazing offers to its users. Flipkart has easy buying option. Users can buy products in no cost EMI.

Flipkart also gives users an option to buy now and pay later. The e-commerce giant also organizes sales and other events.

In this article we will be talking about Flipkart's Supercoin program. When you buy anything on Flipkart you earn 2 Supercoins for every 100 spent.

For example if you buy a product of Rs. 600 then you will be rewarded 12 supercoins. Users can earn up to 50 coins maximum per order.

If you are a plus member then you earn 4 supercoins per 100 spent to a maximum 100 supercoins per order. You can easily become a Plus member if you have 200 supercoins

If you have plenty of supercoins and do not know how to put them to good use then you have come to right place. Supercoins can be used in multiple ways in Flipkart. You can buy anything from Flipkart using Supercoins.

You can use Supercoins to get multiple gift cards and vouchers on Supercoin zone. Supercoins can also be used to book Flight tickets from Flipkart.

Note- Supercoins can only be used within one year of date of credit. For example if you were rewarded 20 supercoins in April 2021 then they only be valid till April 2022.
Step By Step Guide On How To Spend Supercoins In Flipkart :-
Method 1
You can use supercoins to buy things from Flipkart. If you have enough supercoins then you can easily purchase stuff from Flipkart just by using supercoins.

1 supercoin values as Rs 1 so If you want to buy something worth Rs. 200 then you will need 200 supercoins.

You can also use supercoins to avail discounts in products for example if you want to buy jeans worth Rs 1600 and you have 100 supercoins then you can use those 100 supercoins to avail Rs. 100 discount.

Please note that Supercoin payment is available in selected products.

To buy using supercoins follow the steps given below
Open Flipkart app and search for the product you wish to buy. You will see the option to pay with supercoins if the product will be eligible for payment with supercoins.

Now tap on Buy now to check out. Now add your address and other details and move to payment
On the payments page you will see an option to pay with supercoins, select it and place your order.
Method 2
Supercoins can be used to purchase various vouchers and coupon. You can go to Supercoin zone and check what offer suits you.

One of the best deals you get with the Supercoins is the Disney + Hotstar premium membership for 1 year.

Disney + Hotstar is the same platform which has shows like Game of thrones, The wire and Sopranos. You can get subscription of other streaming platforms based on the number of supercoins you have.
Method 3
You can also use your supercoins to book flight tickets on Flipkart. Supercoins can also be used to pay for bills and other utilities. You can scan the QR code of the seller and pay him through Supercoins.
Conclusion :-
In this article we showed you how you can spend supercoins on Flipkart. I hope this article on how to spend supercoins in Flipkart helps you.