How To Sign Into Gmail Without Phone Verification
🕐 1 Jul 23
Gmail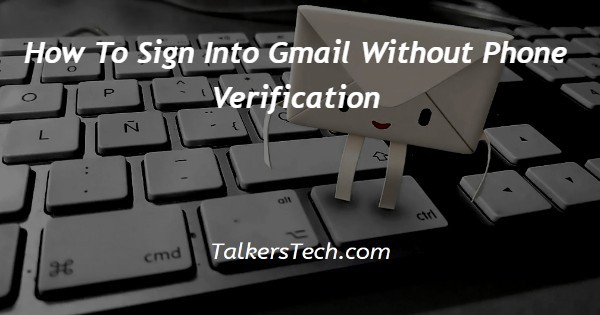 In this article we will show you the solution of how to sign into Gmail without phone verification, Gmail is one of the most popular email services in the world right now. With a humongous 1.5 billion active users all over the world, Gmail gives the ease of smooth services pretty much in any part of the world.
Along with smooth services, Gmail also provides optimum security by which users can feel safe about submitting their data to Google.
Google gives users the convenience of 2-factor authentication, with which users can be protected from hackers and malware.
However, often at times we find ourselves in situations where we need to log in to our Gmail account but we do not have our old devices, be it because of theft or damage, and we are not in the situation where we can verify information.
In that case, certain steps need to be followed for the user for them to be able to log in to their Gmail account without needing to verify.
Forgetting our password can be a very frustrating thing. When we forget our Gmail password, we can change it with the help of our phone number as Gmail will send a verification code that we will need to enter, and once entered, we can then change our password easily.
However, if at any time we change our mobile phone or our phone number, it might get a little complicated to recover our Gmail account. There are still ways by which we can do that.
Before changing a phone number, it is important to check all the accounts, that particular number is associated with.
If possible, it is also advised to use the old phone number for the new phone as well, so that the hassle of having to recover a Gmail account with a new phone number could very well be avoided or lessened.
The following steps could be useful for recovering your account
Step By Step Guide On How To Sign Into Gmail Without Phone Verification :-
The user will first need to open Gmail from their browser.
After opening Gmail, they will need to enter their email address and password
Now, Google will most probably need them to verify their identity by sending an OTP, also known as One Time Password, to their phone number that is registered with Google.
Since that option is not available, the user will need to choose the "Try Another Way" option near the bottom of the screen.
Once that option is selected, Gmail will then bring forward a list of different security options for the user to use to log in to their account.
The user will be provided with a varied number of options for their account recovery.
The user can then make use of any of those recovery methods to gain back access to their Gmail accounts.
If the user has Gmail backup codes available to them, they can also make use of those to log in to their Gmail account.
Conclusion :-
Gmail accounts can also be recovered through recovery email as well.
When it comes to changing phone or changing phone number, a user should always keep themself logged in from a different device to be able to use the link that would be sent to their recovery email account.
It is very important to plan those things beforehand to avoid the risk of losing their Gmail account.
I hope this article on how to sign into Gmail without phone verification helps you and the steps and method mentioned above are easy to follow and implement.