How To Sign A Word Document On Mac
Last Updated : Nov 29, 2021
IN - Microsoft Word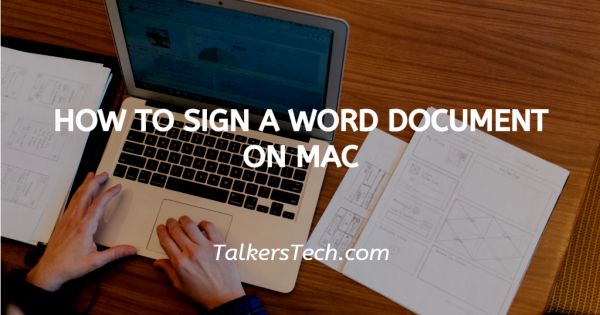 In this article we will show you how to sign a word document on mac, Mac provides you with different ways of sign in a document quickly on the word. You can sign a word document on mac with the help of a track pad or camera.
Mac provides E A user-friendly signature option which is included in the preview app. Just follow the steps below to know you can sign the word document using Mac.
Step By Step Guide On How To Sign A Word Document On Mac :-
Via Trackpad
First, you need to open the word file where you need to sign in preview.
You will see a Toolbox icon is placed at the upper right-hand corner click this option.
Now you need to press the icon of Signature and then tap the create signature. This option is placed at the bottom of the list to start the track of your signature.
You will come across two options on your screen named as- track pad and camera.
Below the two options named trackpad and camera, you will also see the option of click here to begin.
Click the options click here to begin in order to sign your name on the trackpad.
Now you need to write your signature on the trackpad. After successfully writing your signature in the track pad click done given below.
The signature you have created in the track pad will be included in your document and you can easily move or resize it as per your own convenience.
Via Camera
Again, you need to open the Word file where you want to sign in to the preview.
Select the toolbox icon which is placed at the upper right-hand corner of your screen.
Look for the signature icon and then tap create a signature.
A dialogue box will appear on your screen with again will show you two options named track pad and camera.
As we have already completed the steps for the track pad signature, now you need to select the option camera.
Write your signature on white paper and make sure it is clearly visible to your camera.
The preview application will automatically draw the virtual signature you have just signed on a piece of paper.
When you click the option of the camera, it also informed that sign your name on white paper and then hold it to be visible to the camera.
After this click Done.
Now your signature is placed in your word document on Math and you can resize it at your own convenience.
Conclusion :-
I hope this article on how to sign a word document on mac helps you in this article, we covered an essential guide using a track pad and camera and the steps mentioned above are quite detailed and easy to follow.