How To Share LinkedIn Profile Link
🕐 9 Apr 23
Linkedin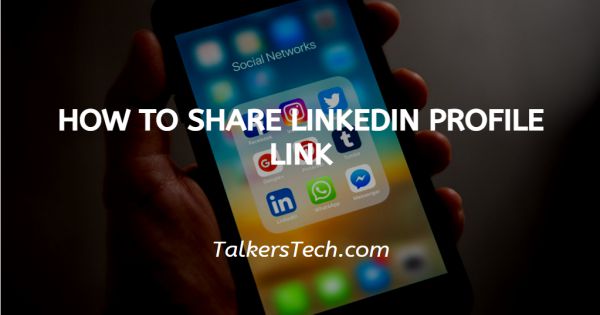 In this article we will show you how to share LinkedIn profile link, In the corporate world of today, networking is a cardinal and paramount factor which often determines our success or failure.
Thus, platforms dedicated to creating a link between job seekers and recruiters provide its users with the feature of sharing their profiles with those who might be interested in hiring them.

This process is very helpful and crucial to create great professional opportunities instead of waiting for the fruit to drop in one's lap.

Professionals are now able to share their profiles comprising of their educational qualifications, career, skills etc. with prospective employers and improve their chance of getting a suitable job. This article will guide you on how to share your profile link on LinkedIn.
Step By Step Guide On How To Share LinkedIn Profile Link :-
Go to the LinkedIn website and log into your account. You will be able to view your home feed on the screen.
On the top bar of the page, click on 'ME' icon on the top left corner of the page which will have a mini version of your profile picture as the icon and click on 'VIEW PROFILE'.

The first step will bring you to your LinkedIn profile. From here, you will have to click on the 'MORE' icon located in the introduction box.

Once you click on the icon, you will be able to see a dropdown list. From the list present, choose the second option, that is, click on the 'SHARE PROFILE' icon.

A menu box 'NEW MESSAGE' will open where you can enter the name of the one or multiple connections you wish to share your profile with and click on 'SEND' button. You can also media or a message in the respective fields before sending it to the recipient(s).
In order to share your profile link through a cellular device, follow the steps given below
Locate the LinkedIn app on your device and click on the 'PROFILE PICTURE'. Now choose 'VIEW PROFILE' option.

Scroll down your profile and select the 'CONTACT' section. Under the 'YOUR PROFILE' icon, you will be able to see the link or URL of your profile, click on it.

From the list that appears, select the 'SHARE WITH' option.

Choose the LinkedIn, WhatsApp or any other messenger app to share the profile link and you are done!
You can also share the profile link of another person with your connections and others to help increase their network. In order to do this, you will have to open the profile of the person and follow the same steps mentioned above.
Conclusion :-
This feature of being able to share profile links has made the process of applying and hiring for jobs extremely flexible and quick.

The procedure mentioned in this article will give you a fast way to share your profile links with others, increase your connections and boost your professional networks. I hope this article on how to share LinkedIn profile link helps you.