How To Set Jio Tune Which Is Not Available In JioSaavn
🕐 1 Jul 23
JioSaavn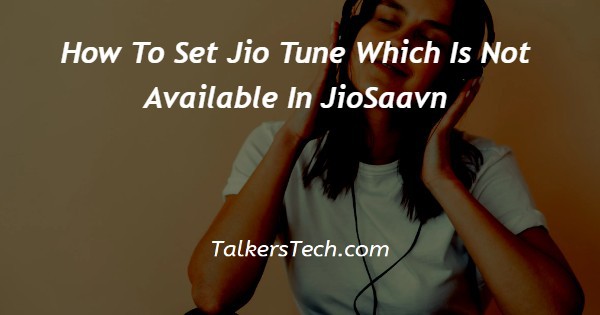 In this article we will show you how to set jio tune which is not available in JioSaavn, JioSaavn is the most popular live music streaming app provided by Reliance, it is basically free for their clients for some of the services clients are paying.
Nowadays all of us want to set a song as a caller tune or ringtone on our phone. No one likes the traditional company ringtones on their phones.
If you are a Jio user then it is awesome. Reliance Jio and Saavn have an app called JioSaavn.
Which is for making your wish come true by just performing simple steps.
You can download the JioSaavn app and uses songs from the app as your ringtone. But sometimes the Jio tune is not available as caller tune on the JioSaavn app.
Step By Step Guide On How To Set Jio Tune Which Is Not Available In JioSaavn :-
To set a jio tune option not available in JioSaavn , you need to follow some ways.
There are three basic ways as follows and perform these steps to set JioTunes by Messaging of the song on 56789 :
First, open your message box of your phone.
Then type the name of the song inside your text message app .
Then send it to 56789 from your Jio sim.
Now they will give you a list of matching song names with numbers and you have to reply to the corresponding numbers that you want to set as your Jio caller tune.
Now reply with yes for your song and that song will be set to your Jio Caller tune on your phone.
If you want to stop this function then you have to reply with STOP to 56789.
You can set any song as jiotune . but there is another way of using MyJio app and the steps are as follows.
Download the MyJio app on your phone.
Then Open my Jio app .
Now click on three horizontal line icons on the left corner and select Jio tunes.
Then Click on Songs and type the name of the song that you want to set as your Jio Caller tune in the search box present on the screen.
Select your song and press 'Set as JioTune.'
That song will be your Jio tune.
Hence you can easily use this way on your phone too, apart from these there is another way for you . you can use send email to JioSaavn Team.
Go to the link https://www.JioSaavn.com/corporate/contact .
Click on the NONE OF THE ABOVE ,I'D TO GO ROGUE , in drop down menu .
Fill details , name of song in the box along with your caller tune request line.
Then send.
Conclusion :-
I hope this article on how to set jio tune which is not available in JioSaavn helps you and the steps and method mentioned above are easy to follow and implement and your desired caller tune will set as jiotune.