How To Set Caller Tune In Jio Saavn App
🕐 1 Jul 23
JioSaavn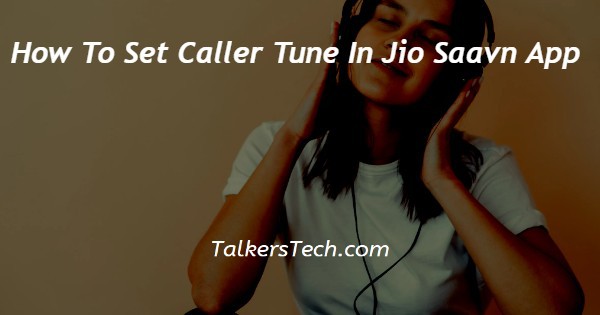 In this article we will show you how to set caller tune in jio saavn app, JioSaavn is an Indian online music service which provides songs, music in Hindi, English, Malayalam, Bengali, Kannada, Tamil, Telugu, Bhojpuri and other regional Indian music around the world.
JioSaavn is a music streaming application provided by Reliance, which also allows users to turn their favourite music into caller tunes.
The music application is available for both Android and iOS platforms for free.
Jio users can set or change their Jio caller tunes up to three times in a month for free using the MyJio app.
If they are using the JioSaavn app to set JioTune, then only one JioTune per month is free.
Many of Users simply want to set a song as jiotunes directly from the application of jiosaavn.
You can do this easily by performing these steps.
Step By Step Guide On How To Set Caller Tune In Jio Saavn App :-
Here's how you can set JioTunes using the music application. The process of setting JioTunes from the JioSaavn application is fairly simple and you can follow these steps.
Download and install the JioSaavn application from the Google Play Store or Apple App Store on your phone or iOS.
Then Log in to your JioSaavn account.
You have to select language from the list into get in the app. The songs will display as per your chosen languages.
Now search for your favourite song on the application.
Click on song which you want to set as a caller tune.
You will see an option to Set the Jio Tune button just below the album art and song title.
You will get an SMS message once the JioTune has been activated.
The message will also contain the details to deactivate the JioTune as well.
There will be a pop-up screen where you can preview your caller tune.
Once done, you can tap on the Set JioTune button to set the selected song as your caller tune.
Conclusion :-
So, now you can easily set any caller tune of your wish in to your device using jio saavn application.
As Reliance Jio is one of the best telecom operators in the country right now.
The company offers a large range of service including post-paid, prepaid, broadband, and more across the country.
The Reliance also offers to add caller tunes for free on every Reliance Jio number.
Moreover, with the launch of the JioSaavn application, the process of adding a caller tune is quite simple.
Customers can select a wide range of caller tunes across different genres including Bollywood, Regional, International, and more.
Moreover, the company also gives an option to switch between different tunes at no additional cost.
Apart from this, you can also copy the caller tune from other users, which make it even more convenient for users.
I hope this article on how to set caller tune in jio saavn app helps you and the steps and method mentioned above are easy to follow and implement.