How To Send File Larger Than 20MB Via WhatsApp
🕐 1 Jul 23
Whatsapp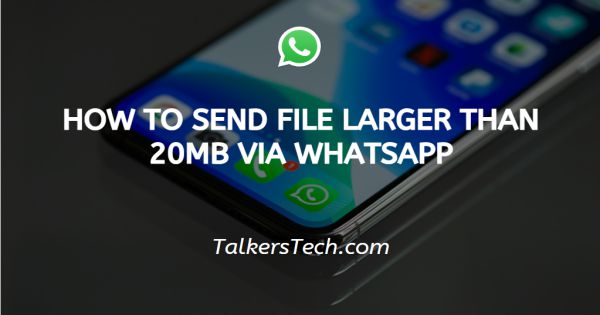 In this article we will show you how to send file larger than 20MB via WhatsApp, WhatsApp which is a social media application is in the top trending applications on our beloved google play store. WhatsApp is basically a texting application on which we can add our friends and family members by saving their phone number on our smart phone device.
Apart from texting service, WhatsApp also provides us various types of extra features which are really useful and increases the attraction appeal to people.

The features namely are calls over internet both voice call and video call, in case if somebody does not have enough amount to place a call or if there is network issue at somebody's home, this feature is a life saver. It also provides us file sharing options, in files we can share image files, video files, pdf files, locations, links.

Now WhatsApp has also introduced payment method on WhatsApp. The downside of the file sharing option is that we cannot share a large file on WhatsApp. What if you want to share large files on WhatsApp?

In this article we will tell you how you can share large files on WhatsApp. You don't need to download any third party-application or pay any money for this, this is totally free.
Step By Step Guide On How To Send File Larger Than 20MB Via WhatsApp :-
First Method
Open google drive.
Tap at home button.

Tap at the '+' sign.

Tap on 'upload'.

Navigate to the file which you want to upload.

When your file is uploaded.
Tap on the 3-dots below the file.

Turn ON the 'link sharing' if off by taping on it.

Now tap on share.

Tap on the green icon below.

Tap on the link.

Tap on copy link.

Now go to WhatsApp, and open the chat-box.
Hold the text space and paste the link over there.
The other person can download the file using the link.
Second Method
Open WhatsApp.
Open the chat box of the person with which you want to share the file.
Tap on the icon marked in the picture attached below.

Tap on 'documents'.

Now navigate to the file which you want to share.
Your large file is shared now.
Conclusion :-
These were the 2 methods by which you can share large files on your WhatsApp for free and without downloading any third-party application.

I would highly suggest that you should use the first method more often because that is better but it totally depends on you, you can use any method you like as long as you are comfortable with it. I hope this article on how to send file larger than 20MB via WhatsApp helps you